"Are we not more likely to hit the mark if we have a target?" – Aristotle
Much like the legendary leg spinner would have loved it, fortune had other plans. Vaman Viswanath Kumar, one of Indian cricket's most talented veterans, was in conversation with Bhaichung Bhutia Football Schools (BBFS) the other day.
It may sound a bit odd. Isn't it? Why would a reputed cricketer speak to a football organization?
The reason is his grandson. Aditya, now 16, dreams and plays football. This fall, Aditya is set to join the BBFS Residential Academy (Maharishi Vidya Mandir) in Karnataka. As his grandfather says, "I did not want to force my grandson into cricket. I tried, but he chose his passion. And one should follow their heart. My responsibility is to try and provide the right opportunities in football".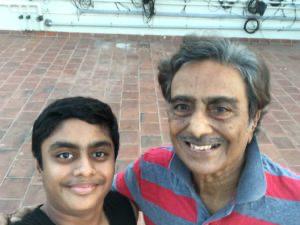 "I always wanted to pursue a sport that is fast paced, requires quick thinking, and has flow. I tried playing cricket, but it did not work out. I am thankful that my parents, especially my grandfather did not push me to play cricket" recalls Aditya.
Aditya started sports as a 3-year-old. Reason being Mr. Kumar. He took Aditya in Madras Cricket Club nets, where he continued playing and coaching till his late 70s. Mr. Kumar thought having the genes of a sports family, Aditya will achieve great feats in the game of bat and ball.
Aditya's mother too was a reputed athlete back in her school and university days. So it was a great combination.
"I took him to the club where I used to play some cricket. I was in my 70s at the time. Initially, Aditya showed interest in cricket. However, as days went by, I could sense his liking diminished. One day, he came up to me and said I don't like cricket, grandpa. Instead, I have a keen liking for football. I said to him, beta, you are making a wrong statement. Maybe, I need to focus more on you. However, deep inside, I never wanted to force him. Since a young age, Aditya has shown intent. He has a set goal. I received backlash from closed ones. They said you are being a quirk. You are pushing your grandson into a sport where you have no access. Whereas you have achieved so much in cricket, if you focus on Aditya, he will have a fair chance. I felt otherwise" said Mr. Kumar.
Aditya stood firm. He started football in school. Later, as he showed progress, he joined Mahogany Football Club. Aditya's athletic prowess was evident. His coaches have spoken highly of him and he has been acquiring diverse experience in football.
Aditya played for various teams in Karnataka, West Bengal and Tamil Nadu. In 2019, he debuted in the age-group I-League for former I-League champions Chennai City FC. He even captained the U-13 team.
"My highest point so far was with Chennai City FC. I scored a double hat-trick against a well known team. Actually, in that match, we made a comeback. However, my highest point came just before my lowest. In 2018, I had a fractured arm which separated me from football for four months. It was discouraging and I had second thoughts. I am thankful to my coaches, family, and friends for showing trust and making me believe in myself" reminisced the youngster.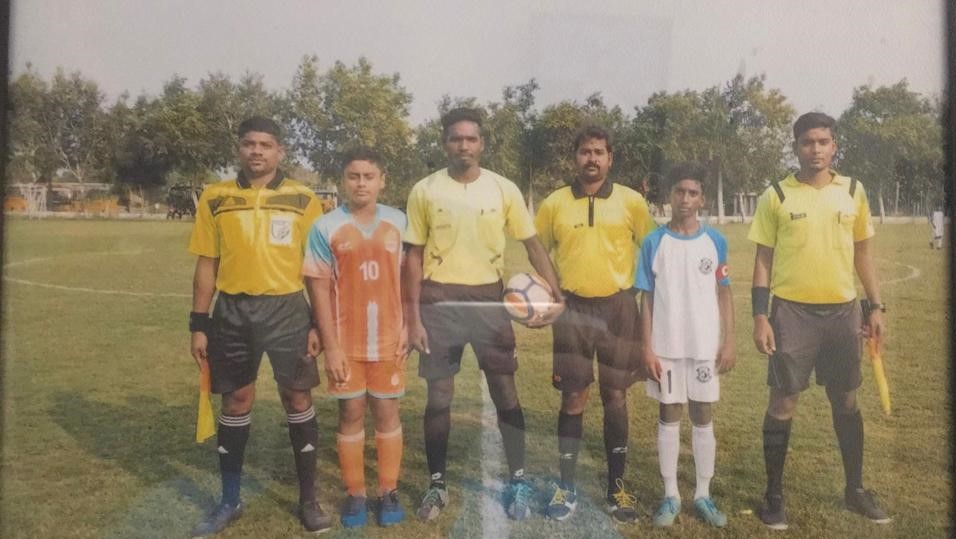 In sport, one thing that is certain is the uncertainty of it. You never know what awaits you. One day you are the hero, but the next day an injury might bog you down. It's real-time and fast. There are no retakes.
But sports also offer certainty. The certainty of building character. As Mr. Kumar puts it, sports is an enabler. Sports is education.
"I feel people who don't play sports are missing out on a great component of life. Sports is education. However, it is imperative that you are in an ideal environment. Back in our days, I was fortunate to be surrounded by great seniors with whom I studied and played. In fact, most of my learning came from my surroundings. That is lost in today's age. Technology has taken over and people have no time to stop and ask. I feel very sad.
But, when we visited BBFS Residential Academy, I had a very strong feeling that they would provide the right mentorship for Aditya. Their emphasis on sports and academics, culture, and camaraderie reminds me of my golden days. And let me tell you I have seen many sports schools in 40 years of being in this field. I am very happy that Aditya is set to start a new life with the right people. He will learn a lot about life. That's the most important thing." affirmed Mr. Kumar.
Aditya wants to pursue football at the highest level while completing a degree in engineering. Football is his first priority. Academics is a back up. With a set goal, Aditya has endeavored in his latest sojourn. He aims to don the national colors in no time and represent an Indian Super League (ISL) team.
"The perception of goals needs to be clear in case you want to be a sportsperson. You have to aim big in life and try to achieve it. Rest follows. That's what sports has taught me. What do you think about this 16 year old's thought process? I think it's magnificent. Having set a target, I am sure Aditya will achieve his goals" concluded the 85-year-old, with his voice as sharp as his spins were.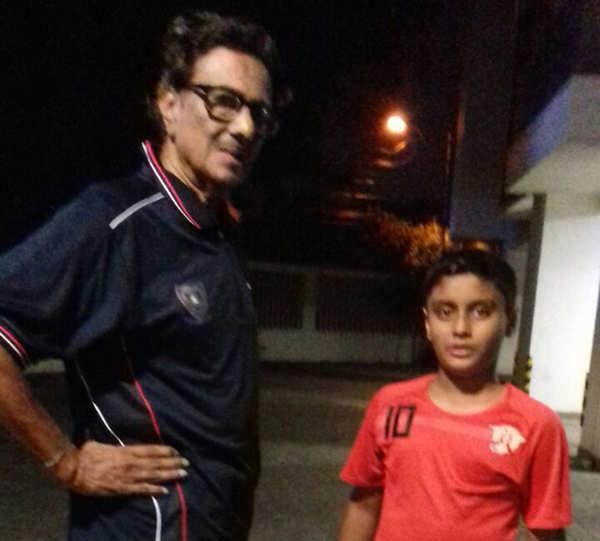 Mr. VV Kumar has played professionally for 22 years. He later joined State Bank of India and retired as a General Manager. Mr. Kumar has a staggering 599 first-class test wickets at the domestic level. He played for team India as well. Mr. Vaman was a part of the Board of Control for Cricket in India's (BCCI) spin wing along with other greats such as Bishan Singh Bedi and Erapalli Prasanna. He spent close to seven years in the National Cricket Academy (NCA) passing down the tricks of the trade to the youngsters in the 2000s.
Now his grandson's time has come. May he achieve what he deserves!
Read more about BBFS Residential Academy
Download enJogo, India's first football learning app on Android and iOS
Read the last five editions from The Dugout:
#39 Importance of Coach Education
#38 Football's loss is Industries' gain
#37 Pathway to professional football in India
#36 The football factory of North-east India
#35 Bhaichung Bhutia Football Schools finally in the North-East