India U-20's victory against Argentina U-20 in 2018 rang many bells for Indian football. The youngsters played a heart whelming game and were the deserved winners.
Indian football was deprived of utilizing its most treasured asset – the youngsters. Until 2017, the ecosystem lacked a structured pathway, and young players had fewer options.
In November 2017, the All India Football Federation (AIFF) started youth leagues. Since then, hundreds of academies have been mushrooming in India. But most teams are at a nascent stage.
The world of sports sees a steep dropout between ages 8-13 per year. The reasons are aplenty. Apart from choosing academics over sports, players quit lacking mentorship and opportunities.
However, the European leagues have a steady count of young talents who make it to the big leagues – thanks to their competition structure. Adding to it, all youth-level teams have licensed coaches with experience. No wonder the best footballers play in European competitions.
Providing the right facilities and mentorship to youngsters is key
Despite the rising number of teams in India, there is a considerable gap in trained coaches for the age-group categories. Few teams have specialists who work on different aspects of high performance.
Any child introduced to football needs proper guidance. In the formative years, the experience for a player needs to be positive, engaging, and educational. If these boxes are not ticked, the chances of quitting increase.
To help aspiring coaches, enJogo – BBFS introduced enJogo Coach-ed. It is a proprietary coaching course for grassroots football, and the program aims to develop aspiring male and female coaches.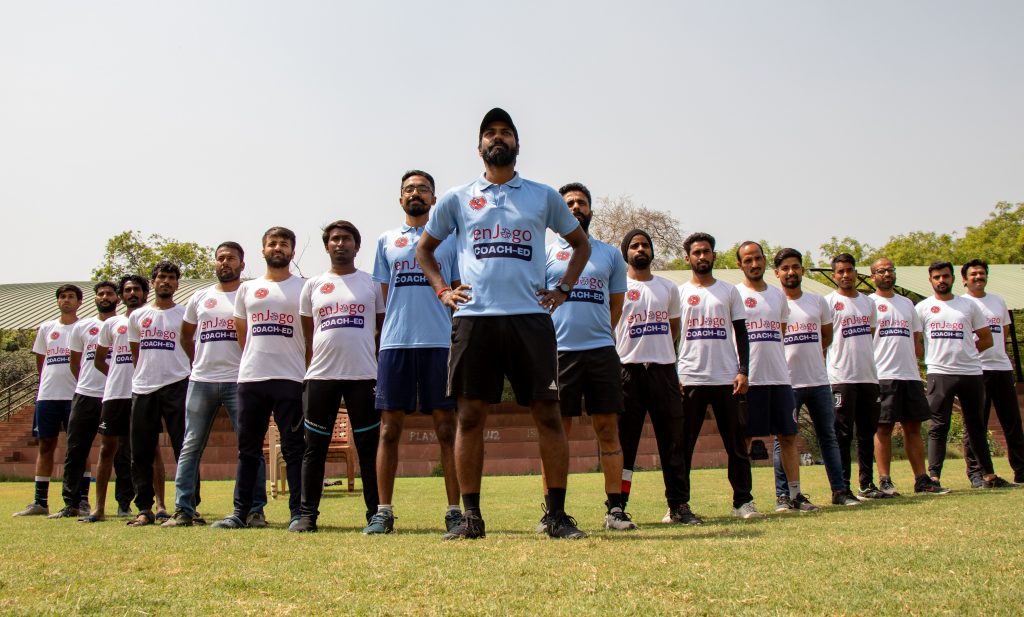 Since 2010, enJogo-BBFS has built a vast coaching network, many of whom are AFC Licensed coaches. They have trained thousands of young footballers across India, and some have worked in foreign leagues.
The coaching methodology was developed by team Football by Carlos Queiroz (an experienced team of foreign coaches headed by former Head Coach of Portugal and Real Madrid Mr. Carlos Queiroz).
Standardizing grassroots coaching
The one-of-its-kind initiative by team enJogo – BBFS was launched last month. Around 20 coaching aspirants were a part of the first workshop. The course 'Master the basics of grassroots coaching' entailed modules on the mental, physical, social, technical, and tactical aspects.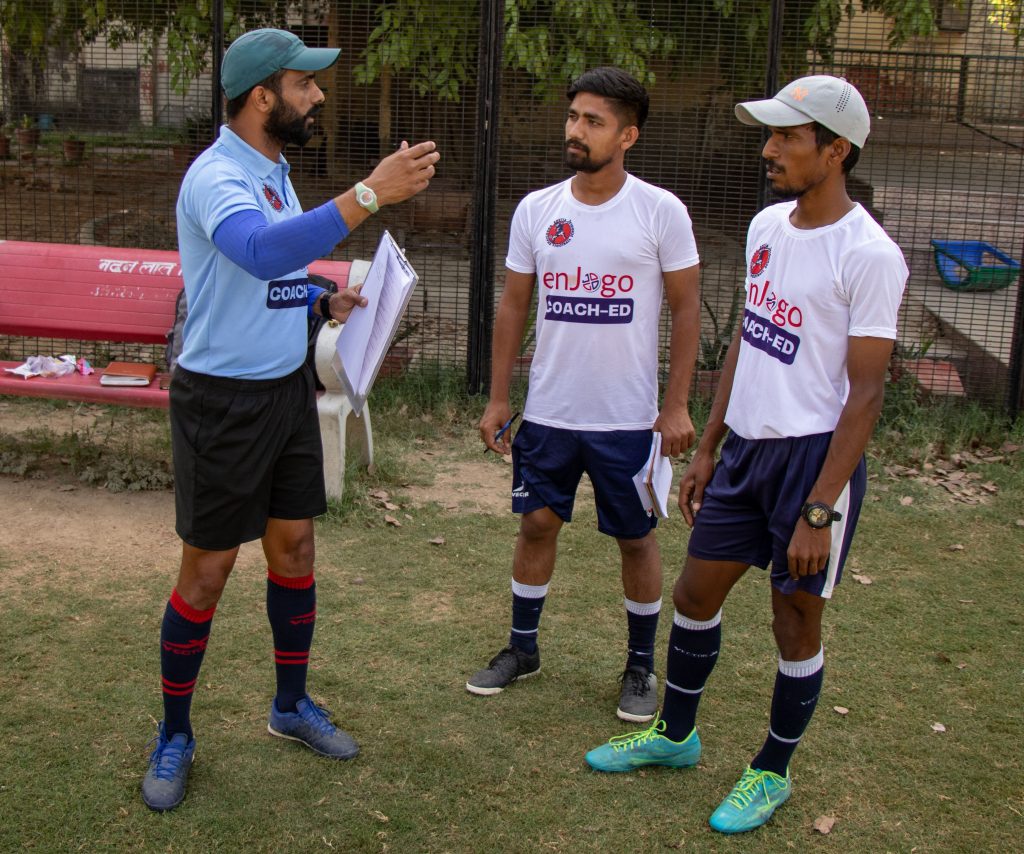 "The enJogo Coach-ed workshop 'Master the Basics' is an entry-level course for any aspirant. To support coaches, we have devised a curriculum focused on creating an ideal environment, teaching football via fun-filled activities, and curating sessions based on individual needs," said Akshay Unni, enJogo Coach-ed instructor.
The workshop took place over a week. Each day, two-hour sessions in practical and theory were conducted where candidates were evaluated in phases depending on their learning outcomes. At the end of the program, eligible candidates received BBFS certifications and internship opportunities.
Tweak methods, maximize efforts
The demands in grassroots training are different from senior groups. A young footballer's physiological and psychological needs differ depending on age. It is imperative that a coach understands the developmental phases and curates sessions based on individual needs.
"When you start coaching young players, you need to be clear about the checklists. The experience in the initial playing days must be positive. In physical development, coaches must not focus on ability, balance, and coordination (A-B-C). Instead, the focus should be on perfecting their basic motor skills like walking, jumping, and running.
In mental and social aspects, everyone must learn the psychologies of young athletes. The coach needs grooming on speaking with youngsters, engaging, and motivating them on and off the pitch. These factors are often taken lightly, and there is no education. Next comes the need to empathize with all student-athletes and, at the same time, learn how to get the best outcomes through various fun-filled activities. Our curriculum is based on numerous situations we have experienced and researched over the years.

We don't get into the core concepts of technical and tactical football training for early entrants. Instead, we tweak the rules to suit their needs and maximize learning outcomes. At the heart of it all, we have to maintain the element of fun because that is key for impact," informed coach Akshay.
In India, the awareness of grassroots football coaching is less. However, the famous football countries in Europe put utmost emphasis in grassroots. Take the example of La Masia – FC Barcelona's grassroots project. The best coaches in the world train the youngsters. No wonder it reaps results every year. Lionel Messi, Xavi, Andrés Iniesta, Carles Puyol, Sergio Busquets, Victor Valdés, Gerard Piqué and many superstars of the game started in La Masia and graduated to play for Barcelona.
"My peers who have done their coaching licenses from foreign countries always speak about the importance of grassroots coaching. People aspire to manage senior teams, but grassroots-level coaching is imperative, and it enhances your knowledge and strengthens your coaching profile.
Once you excel in managing age-group teams, you are well equipped to lead a senior team. The enJogo Coach-ed program will standardize and build awareness about grassroots training in India. The course will enable instructors to get the best outcomes from students and enhance their interest in football." concluded Akshay Unni.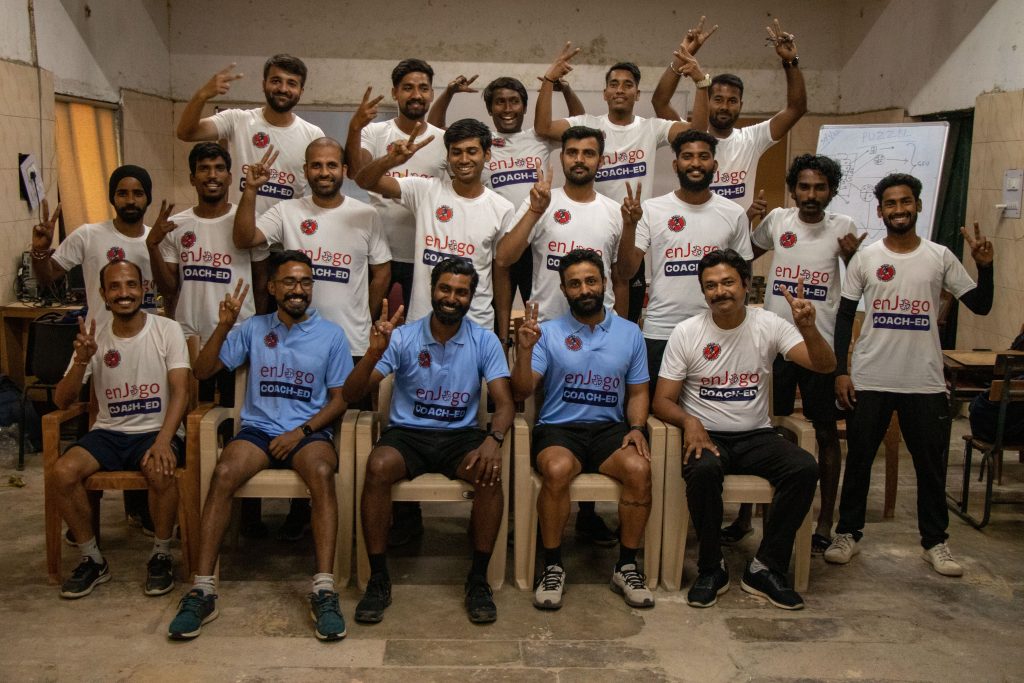 The enJogo Coach-ed workshops will take place across several cities in India. The program is ongoing in Chandigarh. Upcoming workshops will be conducted in Noida, Mumbai, and Ahmedabad during April and May. Registrations for the workshop are on, with limited slots up for grabs. Interested candidates can Register now.
Read more about BBFS Residential Academy
Download enJogo, India's first football learning app on Android and iOS
Read the last five editions from The Dugout:
#38 Football's loss is Industries' gain
#37 Pathway to professional football in India
#36 The football factory of North-east India
#35 Bhaichung Bhutia Football Schools finally in the North-East