'Excellence is an art won by training and habituation.' — Aristotle
Rohit Kumar is a 24-year-old Central Defensive Midfielder who started playing football at age 13. Rohit's reverence and resolve, coupled with a charismatic demeanor, have enabled him to climb the top-most ladder in Indian football within a few years. So far, he has fielded for the national team and four ISL-based franchises.
Rohit's take on life is simple. He informs that life is about trial and error, analyzing mistakes, and refraining from repeating them. Adding to it, he says that professional football needs emphasis on training, recovery, and staying upbeat. The rest follows.
A day with Rohit
Rohit wakes up at 7. Post refreshments, the day begins with filling a wellness sheet – a piece of paper containing questions that dictates Rohit's schedule for the day. Wellness sheets are a vital element for footballers. It tracks how the player feels about their mental and physical health as the day starts. Once filled, the sports science department analyses the data, and accordingly, individual sessions get planned.
"Our physiotherapist sends us a wellness form in the morning. This form contains questions related to quality of sleep, mood after waking up, recovery from previous session, and a few other things. We need to reply to these questions honestly because a physiotherapist cannot anticipate what is happening to an athlete's body on a daily basis. Over time, the daily data gets analyzed to strategize different aspects of athletic development.
Suppose, if a player mentions feeling a knock on his ankle, the issue is immediately taken to the medical team. Based on the severity, he might not participate in certain drills during the morning session or might be rested for the day. An athlete might have a small knock and continue training which can later have dire consequences. In a professional setup, it is important to address injuries at the right time. On the other hand, if a player reports that he feels highly motivated, the training drill is adjusted to work him harder. He might get additional drills or spend more time sharpening specific areas," says Rohit.
Next up, Rohit prepares his kit and gears up for the morning session. Before the day's training, he consumes a light meal for breakfast.
"As a professional footballer, a balanced diet is imperative. Our diet is structured in a way that puts focus on everything. It includes a good amount of carbs, proteins, vitamins, minerals, and other nutrients. The food varies for each of us. Some follow a vegan diet, whereas others don't. Since training starts post the first meal, I tend to eat light. My breakfast rotates between scrambled eggs, beans, oats, seeds, bread with peanut butter, fruits, and coconut water." says Rohit.
Before training begins at 8:30, Rohit indulges in music with a cup of black coffee. The morning session continues for 1.5-2 hours. A cool-down session and ice bath follow it. When the session concludes, players consume fruits, protein shakes, and supplements depending on individual needs.
Players then go for a shower and assemble for lunch. The menu for lunch and dinner remains the same. Rohit eats quinoa, brown rice, roti, beans, vegetables, eggs, mashed potatoes, chicken, and salad.
"Post lunch, we take rest for a few hours. The evening starts with a gym session followed by some leisure hours, where we spend time with colleagues playing card games, PlayStation, and watching web series. Dinner is completed by 19:30. We then go for a walk. Generally, we speak to our family and friends before falling asleep by 22:00," quips he.
During match days, the routine changes. In the morning, instead of training, Rohit goes for an activation session. An activation session involves a discussion surrounding the strategy for the game and some psychological drills to boost mental and physical resilience. If the match is scheduled for late evenings, Rohit spends his time resting before kick-off. His diet remains unchanged. After the match, he eats and goes for recovery sessions. The team spends some time discussing the game in their dressing room and then returns to the hotel.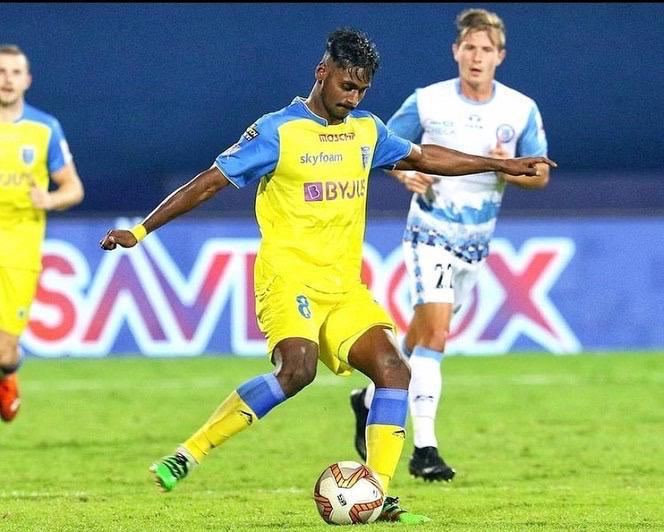 The monotony of football
Rohit spends most of his time with football. At times, the process of repetition can get challenging and monotonous. So, how does Rohit prepare himself mentally and physically each day?
"Life can become boring after a certain stage. No matter what you do. Even if you are playing, you're undergoing a repetitive process, which gets boring. Everything can get boring, even if you're highly passionate about it. The most important thing in life is to stay happy. Your off-field activities are more important than what you do on the field. If you keep on crying about the bad things happening in your life, you will stop receiving help from others after a certain point. Nobody wants to be surrounded by negativity. Challenges will come, but you have to be brave. It helps you as a person and sets you up for life," explains Rohit.
As Rohit states, the challenge is to balance the mind and body. He spends a lot of time doing things that make him feel genuinely happy.
"I distract myself whenever I feel the monotony. I make time to do things that make me happy. It could be going for a walk, yoga, speaking to someone, or just playing the PlayStation. It is important to switch off at times," says Rohit.
When Rohit joined DSK Shivajians, he underperformed. There was a point when he questioned whether he could manage to play at the highest level. However, he stood tall and kept pushing his levels.
"I feel these situations happen with all. If someone feels that they are under a lot of pressure, it is mainly because they struggle to think differently. As I see my seniors, I learn a lot. I train with Sunil Chhetri. He once told me, an elite athlete should focus more on recovery. One needs to work hard, but working smarter reaps the results. Putting oneself under a lot of pressure is the main reason for failure. Earlier I used to put all my energy and dedication solely into football, but now I have realized the importance of balancing," exclaims Rohit.
Last month, he traveled to the Maldives to represent Bengaluru FC in the AFC Cup Group Stage games and is now preparing to play the upcoming ISL season. In 2015, Rohit debuted for the Indian U-19 team and started his career at DSK Shivajians. He later played for Pune City, Hyderabad FC, and Kerala Blasters FC.
However, his introduction to football happened at Bhaichung Bhutia Football Schools.
Read more about BBFS Residential Academy
Download enJogo, India's first football learning app on Android and iOS
Read Edition #12 – In the lap of nature, and the footsteps of legends
Read Edition #11 – Slogging it out with Shlok
Read Edition #10 – The right age to start kicking
Read Edition #9 – The answer to India's sporting culture problem
Read Edition #8 – From Football to Stanford
Read Edition #7 – Why India doesn't qualify for the FIFA World Cup despite its 1.4 billion people
Read Edition #6 – Beating the odds with Gaurav Bora
Read Edition #5 – Why are we building a sports company?
Read Edition #4 – Five ways technology can make you a better footballer
Read Edition #3 – Sports & Studies: Do they go hand-in-hand?
Read Edition #2 – Growing up with football | Kush Joshi
Read Edition #1 – Passion in the time of pandemic
Make sure you subscribe to the Dugout if you already haven't. Every Tuesday, The Dugout brings you a real-life story, learning, or experience that speaks about the happenings in and around the sports ecosystem.