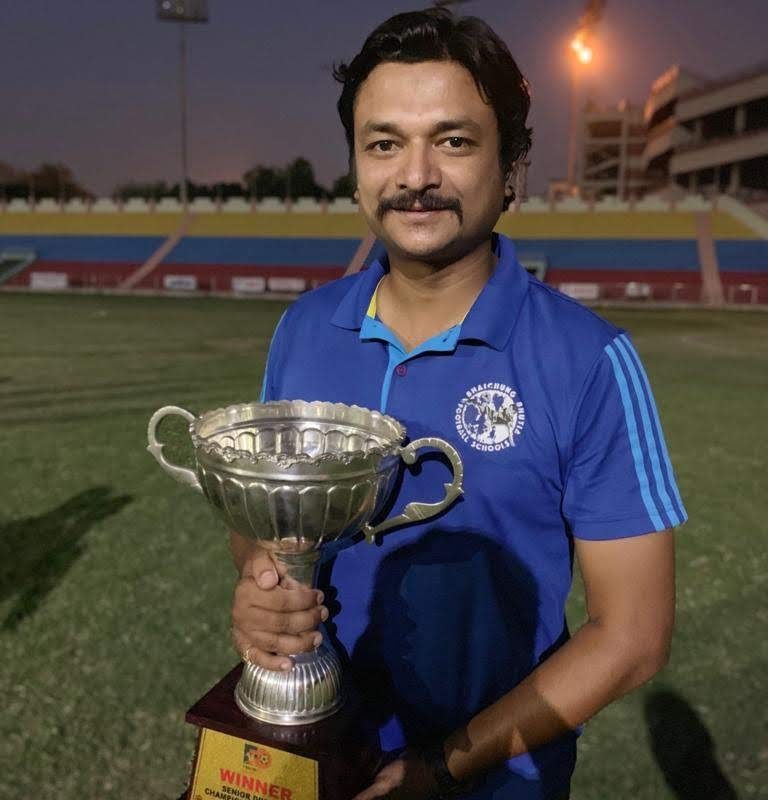 It was October 2010. The time when Bhaichung Bhutia Football Schools (BBFS) were setting base in the capital. Back in the day, BBFS had partnered with former Real Madrid and Portuguese national team Head Coach Carlos Queiroz and his team of reputed coaches to develop the coaching methodology of BBFS, which is followed to date.
In September, two Portuguese coaches, Hugo Pereira and Luis Pimenta, were flown to India to build the first batch of Indian coaches.
"Generally in India, we select coaches just by looking at their qualifications and previous achievements and make them run a team. But the philosophy at BBFS from the start was to prioritize learning and development. In 2010, BBFS started its operations here in Delhi. Carlos Queiroz and his team had asked us to organize a coaching workshop," said Sunil Patwal, the Technical Director of Bhaichung Bhutia Football Schools.
Initially, around 17 experienced coaches had enrolled for the workshop, which went around for a month. After three weeks, the Portuguese coaches, who led the proceedings, selected four.
Vikas Rawat was one of them.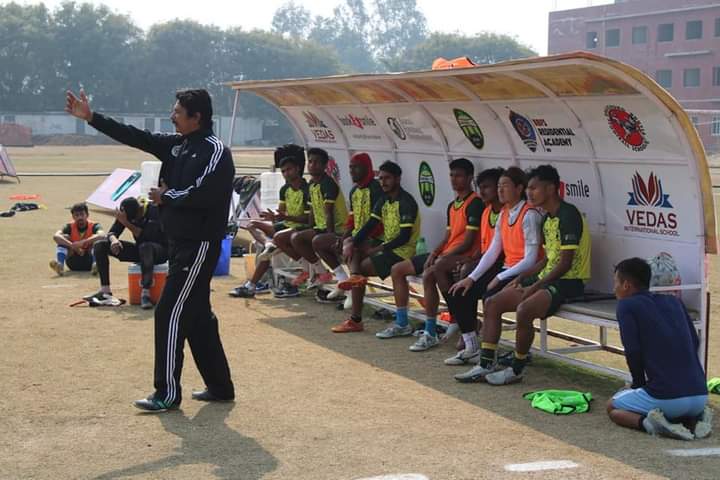 "It was a very new experience. I had no idea that coaching at the grassroots level can have so many aspects. My entire life has revolved around football. When I enrolled for the BBFS workshop, I had already been coaching football for a few years," informed Rawat.
Vikas first kicked a football at Kerala School Vikaspuri in Delhi as a 9-year old. Since then, football has been a constant. He graduated from Indira Gandhi Institute of Physical Education, Delhi, and completed his master's in 2008 from Amity University in Physical Education, specializing in football.
He then worked as a P.E. teacher in Dwarka International School, Dwarka and Army Public School, Shankar Vihar for the next five years. Since 2005, Vikas has also been a part-time football coach.
"Within the first week of the workshop, I had made up my mind and was determined to join BBFS, even if it was a part-time gig. The learnings were unparalleled, and I could sense that I would grow with this organization. After my selection, I joined BBFS as a part-time coach alongside my school job.
However, in 2013, I made a decision. I quit my school job to take up football coaching professionally," said Vikas.
Training age-group teams
"At the time, we didn't have any full-time offers for him. However, Vikas being Vikas, he made up his mind and left his job to join us in 2013. Considering his performance and his ambitions, we accepted. Vikas started visiting the BBFS center at IIT Delhi. He trained grassroots and youth age-group teams," said Sunil Patwal, his mentor at BBFS.
Vikas continued working in the youth system for the next few years. At the age-group teams, he focused on improving the will to play for grassroots categories and emphasized on the technical, tactical, physical, and mental aspects for youth teams.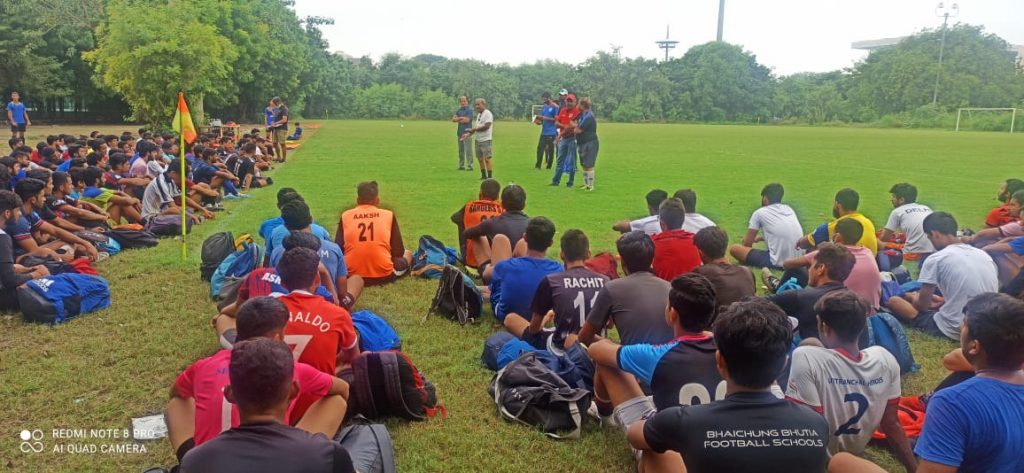 "I have worked with the age-group teams for a long time and studied a lot about sports science and psychology. Football development needs to have a well-defined pathway to produce future stars.
At a tender age, putting pressure on performance is one of the mistakes we indulge in as parents and even coaches. Age-groups 8-13 are solely about instilling the will to play. As the child grows, the process should ramp gently and become result-oriented, enhancing learning and mastery. Unfortunately, that is not the case in India. It is one of the reasons why there's a steep dropout in sports by age 13," informed Vikas.
He trained players like Aashique Kuruniyan (Senior Indian football team player), Aman Thapa (I-League 2nd Division Champions 2021 with Rajasthan United FC) and several professional footballers in their early years. He also won the U-17 Delhi Youth League in 2015 alongside becoming champions of the U-18 I-League North Zone.
Coaching Men
In 2017, Vikas joined Garhwal Heroes Football Club, a BBFS sister-concern playing in the Delhi Senior Division League. He started as an Assistant Coach and was later promoted to be the Head Coach. At Garhwal Heroes, Vikas upgraded his coaching mettle and improved his skills with the senior team. He won the Delhi Senior Division League and qualified for the I-League 2nd Division in 2019.
When asked about the significant changes in approach while coaching senior teams, "man management" comes his instant reply.
"There are various aspects that you need to consider while managing professional athletes. Senior players have their egos, restrictions, and other barriers. So it all comes down to efficiently managing people," apprised he.
In coaching, life is fast. You win one game; you get praise. You lose one; you lose respect. Vikas agrees but informs his approach to life is different.
"I overcame many challenges as a Head Coach. In 2019, the team was in Kolkata for I-League 2nd Division. We managed to draw once and lost the rest. Similarly, we were disqualified in one competition after winning since one of our players had forged documents. It was devastating for the team and me. You deal with such situations as a coach, and life can get gruesome," explained he.
Seeking bigger challenges
But how does Vikas manage such situations and find the motivation to keep pushing daily?
"I am a very optimistic person. I genuinely believe that if you do something sincerely, it will positively impact your life. If things go haywire, you learn and move on. You can't keep on wondering about the same things. Life goes on," claims Rawat.
All these years, while Vikas gained experience in coaching youth and senior teams, he was simultaneously upgrading his coaching skills by acquiring new licenses. In 2017, he completed AFC 'A' license, the highest football coaching qualification in Asia.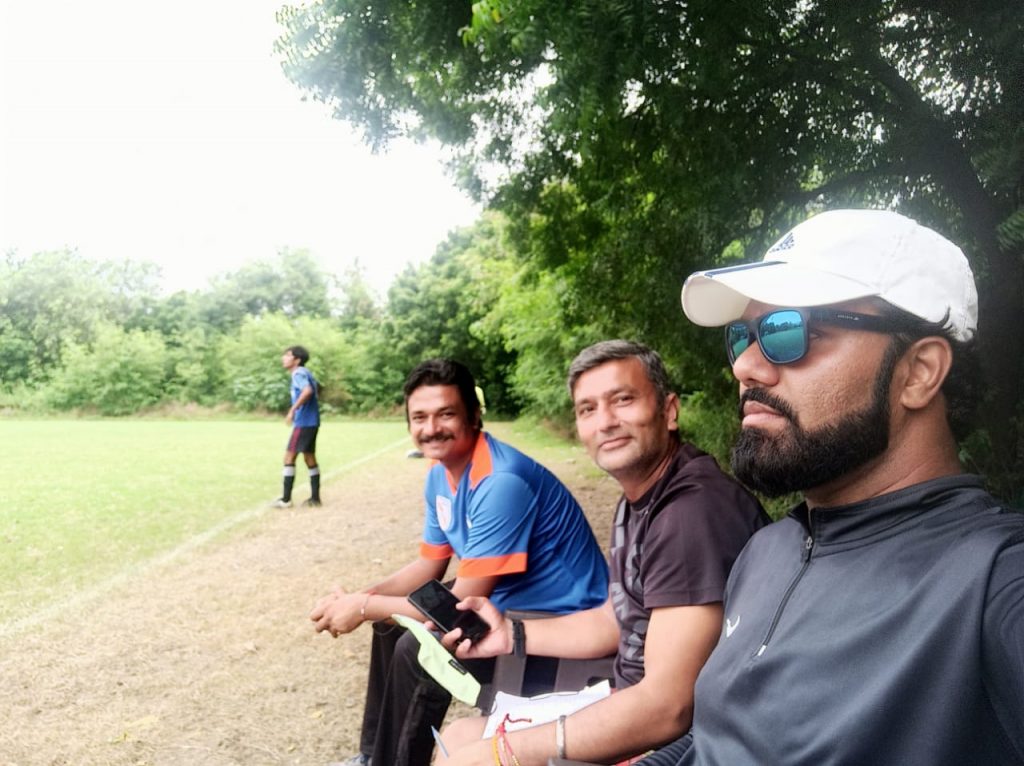 "When Vikas was pursuing his AFC 'B' license, I was told by Savio Medeira (Head of Coach Education – All India Football Federation) that Vikas can become an I-League coach, and with proper guidance, he can soon join the ISL. The positive part about him is that he understands the game well and analyzes it keenly. He is also the type of leader who knows how to control his team even if the situation is dire. In the future, consistency will be the key for Vikas," mentioned Mr. Patwal.
Since 2019, Vikas has furthered his career and is now the Head Coach of the Delhi team for Santosh Trophy – AIFF's national league played between the member associations.
Speaking about his future, Vikas wants to build his career with BBFS.
"My long-term vision is to take Garhwal Heroes FC to the I-League and qualify for the Indian Super League (ISL) by 2025. I am delighted that I am a part of BBFS and have been surrounded by great people. I see my future in this organization and want to become a better coach," concluded Vikas, who also completed his eleventh year with BBFS this month.
At the moment, Coach Vikas is busy building the Delhi team for the forthcoming Santosh Trophy North zone qualifiers slated to start on 1st December. He is raring to add another feather to his cap this time.
Read more about BBFS Residential Academy. Trials open for 2022-23 academic year. Register here.
Download enJogo, India's first football learning app on Android and iOS
Read the last five editions from The Dugout:
#15: BBFS Residential Academy prodigy Karthik Panicker scores on debut!