Did you know?
Several states worldwide celebrate International Women's Day as a public holiday.
The idea was triggered back in 1908 when 15,000 women in New York protested against discrimination at work. After prolonged disagreements and resentments, the Socialist Party of America agreed on terms. It declared the first National Women's Day to signify women's cultural, political, and socio-economic progression.
By 1945, the Charter of the United Nations (UN) became the first international agreement to approve equality between men and women. However, on 8th March 1975, the United Nations (UN) officially recognized the movement and marked the date as International Women's Day.
Gradually, every year Women's Day celebrations are based on a theme. This year, the theme is "Gender equality today for a sustainable tomorrow."
Building a sustainable future for BBFS
In October 2021, we covered the story of our stubborn woman, Sangeeta Das. Starting late in football, she realized that opportunities were scarce. But her resilience to beat the odds and make a career in football stayed firm. Despite various challenges from family and others, Sangeeta persevered, put her life savings into coach education, and developed herself. Such is her story of passion and grit. At the moment, Sangeeta is committed to building a better future for women in football with Bhaichung Bhutia Football Schools (BBFS).
Similarly, when we look at Somi – we see a leader with instincts. Somi had no background in sports but always wanted to play. Receiving assistance from a school friend, she started playing football and achieved significant feats. However, while climbing the success ladder, she faced massive breakdowns. Late in 2019, her father succumbed to brain hemorrhage. There were other instances too where Somi could have stopped playing, but she did not. At the moment, her focus is to build a career in coaching and help the Indian women's team achieve great heights. Somi's story is none less than a film.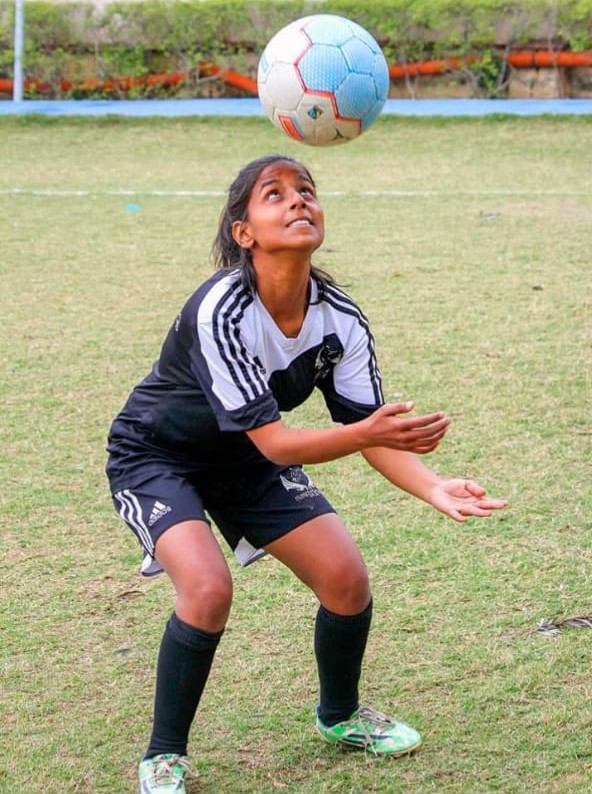 When we speak about hurdles, we can't ignore Anjana Thapa. A girl born in the mystic hills of Dehradun, who found her calling in Delhi. Anjana left her home at a tender age to pursue her passion for football. That's when BBFS happened. She was selected at Garhwal Heroes Football Club, a BBFS partner team, and played in the Delhi league. After spending two years in the capital, Anjana is recognized as one of the best talents in Delhi.
Talking of triumphs and tribulations, we have to mention Indu Sharma. One of the youngest and talented coaches from Chandigarh. Having joined the team in 2017, Indu has grown BBFS in the region. Over the years, she strengthened relationships with parents and students, trained coaches, and helped the business team organize competitions. In her own words, Indu aspires to become a "coach educator and youth development expert and continue to learn from senior mentors at BBFS."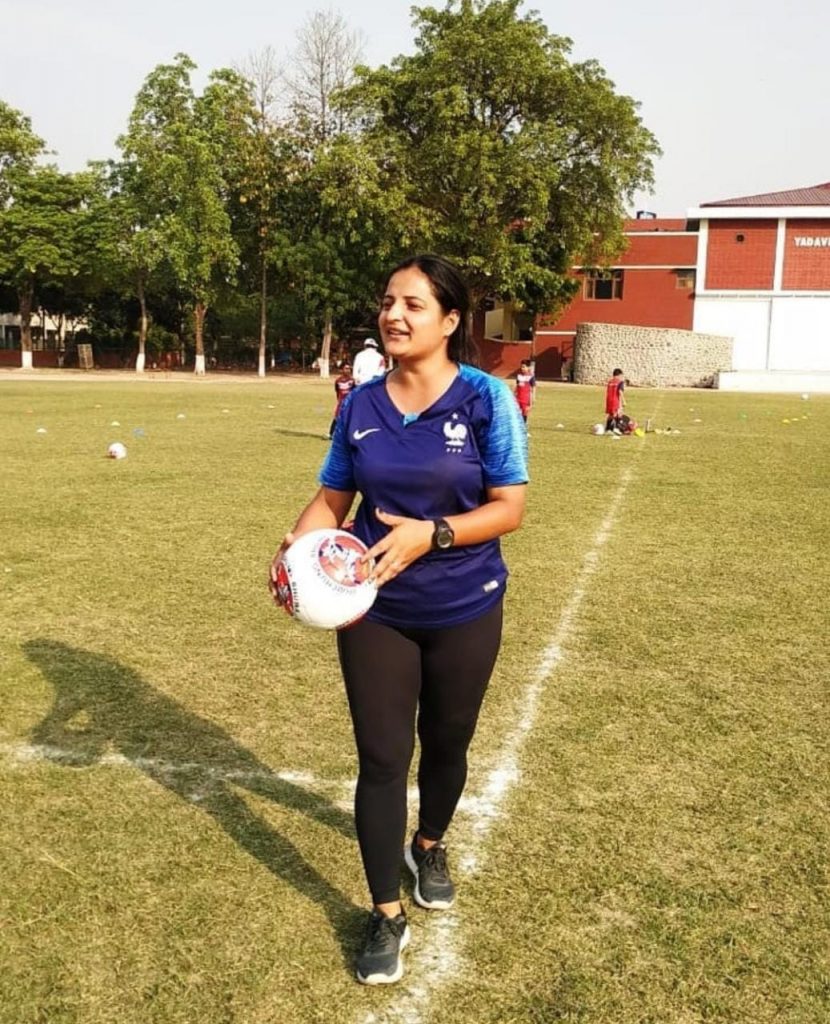 "BBFS has shaped me as a person. Initially, I was intolerant and quick to jump to conclusions. It's been around five years since I joined the organization. Back in the day, I did not have experience in coaching but always had the zeal to learn. BBFS believed in me and helped me with the right skills and environment. I am very interested in coach education and want to further my knowledge and pass it on to others," said Indu.
She is an AIFF licensed coach and recently completed her Diploma in Sports Coaching from NIS Kolkata.
Women are strengthening the culture at BBFS
Alongside our female coaches and footballers, we have key players in the business team who are shaping the organization's culture and building its future.
Let's start with Divya Kurian.
Divya looks over the hiring and residential academy business of BBFS. When she joined, there were very few female co-workers in the team. However, Divya has become a pillar of strength and a go-to person over the years. As she mentions, it was only possible because of the company culture.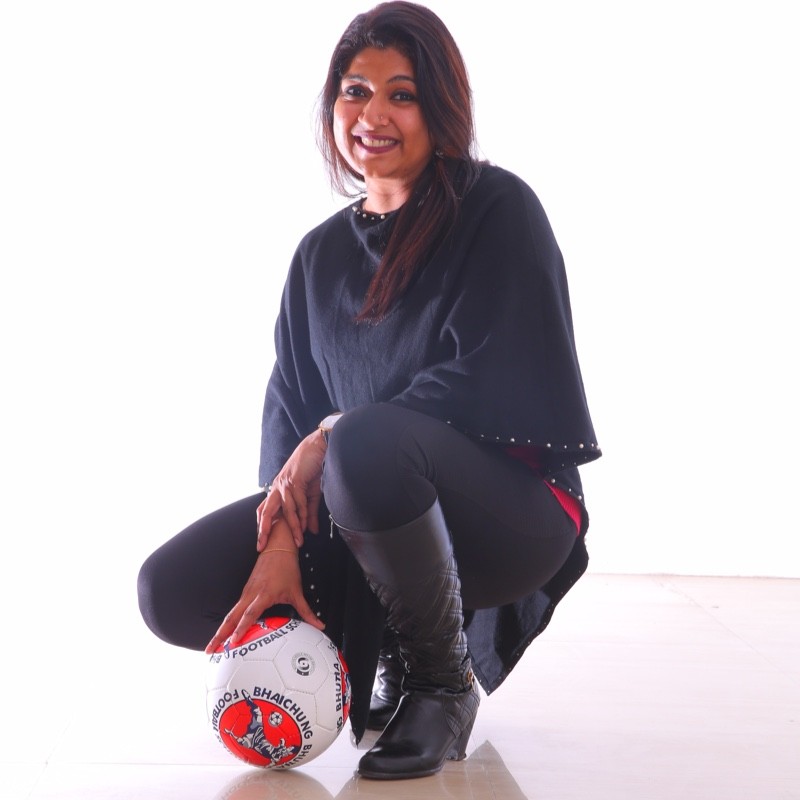 "The culture starts at the top. One thing that will remain consistent is the values of the organization. We are very clear that we will not compromise on what we stand for. We ensure that we hire people who are most aligned to our values. If the value boxes are checked, we can work around everything. I am looking after our company's residential academy business and recruitment and am focused on taking BBFS to greater heights," said Divya.
Next, we have Nidhi Goel – the Career Counselor of our student-athletes. Nidhi has experience running a playschool for years. At BBFS, she helps student-athletes make the right choice for their overall growth. Her responsibility at large is to understand and counsel student-athletes to achieve their best potential. In her words, she finds contentment in letting youngsters find their way and do what they love.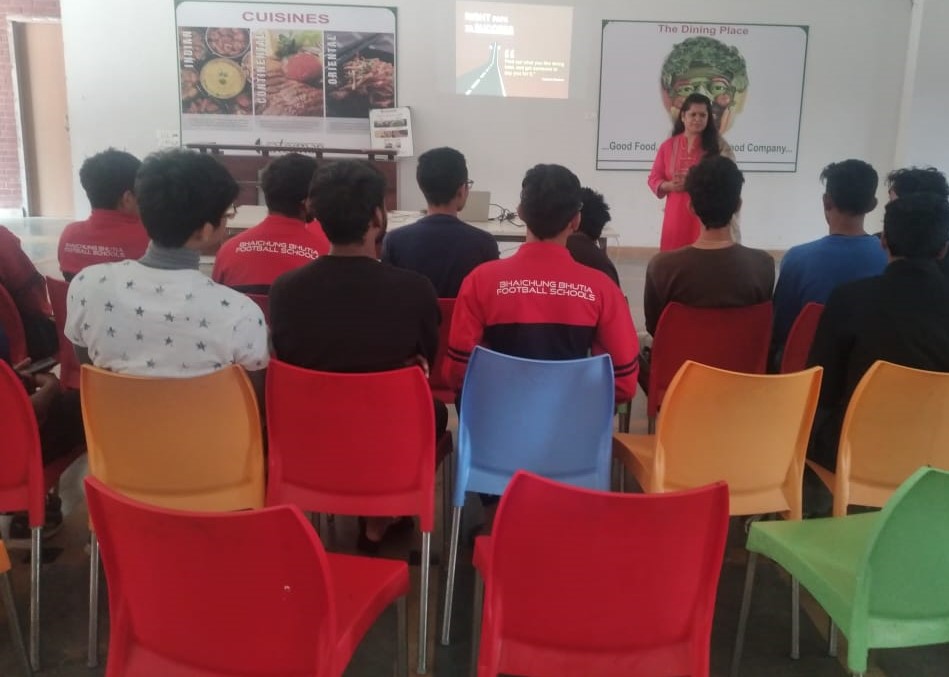 "I work as a career counselor at BBFS. My key role is to help students identify career prospects apart from playing professionally. It gives me an immense sense of contentment when I can understand them and help identify their strengths. We have the freedom to express ourselves at BBFS, and it allows us to be creative and distinct, which helps us put our best efforts," said Nidhi.
Next comes the queen of questions. A seasoned podcaster renowned for her shows on Indian football. That's Siju Mathew, the marketing team strategist. She believes BBFS has enabled her to think out of the box and grow herself as an individual.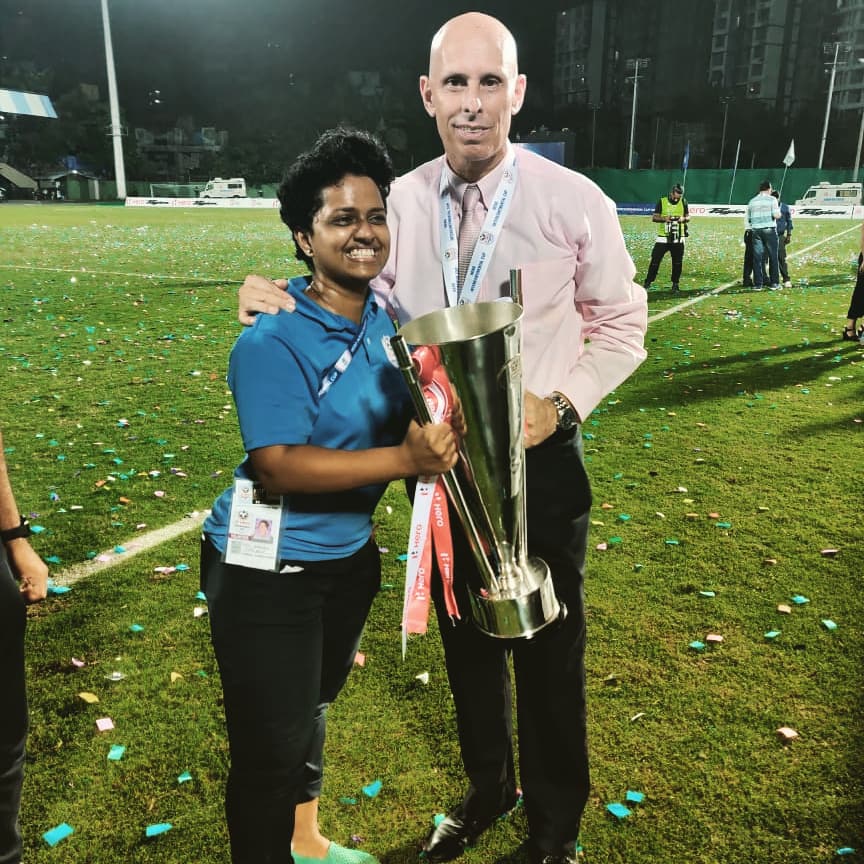 "The core team, which consists of Kishore, Divya, Ankit, and others, are great. We have a culture that gives people an opportunity to grow irrespective of how good they are at what they do. People are allowed to learn by failing, which helps the organization at large. Apart from building the brand identity for BBFS, I want to make a curriculum for our student-athletes that will cover key aspects for life after football. In the long term, a person needs to figure out what will happen once their playing career ends," apprised she.
Last but not least, in today's roster, we have Rhea Rao. A seasoned professional on and off the pitch. Back in the day, Rhea represented the Bengal football team. Having a knack for aesthetics and problem solving, she set out to build a career in design.
"My focus at the moment is to create a brand identity for BBFS and help the company grow through it. I'm very passionate about football. While I was growing up, I never had an opportunity like this to mix both my passions. I want more kids to come forward and not be afraid to take a step towards their dreams. So our design language is important as it should reach out to them. We intend to show people who we are, what we do, and how we provide amazing opportunities," said Rhea, the Design Lead at BBFS.
During her leisure time, Rhea coaches young footballers as well.
We are thankful to all these lovely women for adding immense value to the organization and helping to develop champions of tomorrow.
By the way, this year, we are starting our first women's Residential Academy in Barnes School and Junior College, Nashik, Maharashtra. So, the time is ripe for young girls to #BreakTheBias and pursue what they love doing.
Read more about BBFS Residential Academy
Download enJogo, India's first football learning app on Android and iOS
Read the last five editions from The Dugout:
#31 An IPL-style auction and opportunity for underdogs
#30 What has Shaolin Soccer got to do with Chak De! India
#29 Taekwondo Football The American Dream