It was 2007. Chak De! India was the buzzword that year in Indian cinemas. The movie had all the ingredients that evoked a true sense of patriotism. Kabir Khan, a former hockey star, was tainted as someone who betrayed his country. However, he began coaching the Indian women's national hockey team to prove his loyalty to the nation and went on to lift the world cup.
What a story!
Inspired by it, I decided to become the next Hockey champion. I wasted no time looking for opportunities as well.
Soon, my newfound love for hockey changed to football. Thanks to the famous movie Goal 2, which narrated the tale of a fictional character named Santiago Munez, a soccer star.
I don't know if it's just me. Has a movie impacted your life as well, even if it was for a short time? If the answer is yes, I'd love to hear which movie it was. 😀
Back in the day, for 16-year-old Somi, it certainly was the case.
She watched Shaolin Soccer, a famous football film, and wanted to become a footballer.
The problem was, Somi's family consisted of no one with a sporting background, nor did anyone around her play. She had no clue how to get started.
Now what?
Quoting the famous lines from another Bollywood blockbuster, Om Shanti Om, "Kehte hain agar kisi cheez ko dil se chaho, to puri kainaat usse tumse milane ki koshish mein lag jaati hai"
One fine day, Shikha, who was Somi's schoolmate, carried some medals at school to boast her recent achievements. Curious to know where it came from, Somi was intrigued to find that Shikha pursued football with a reputed team nearby. Without further adieu, Somi convinced her friend and joined them.
"I was unsure whether girls can even play football. But when I saw Shikha with the medals, I was intrigued knowing her association with a football team. At that moment, I had to convince her and start playing," said Somi, with a cheerful grin.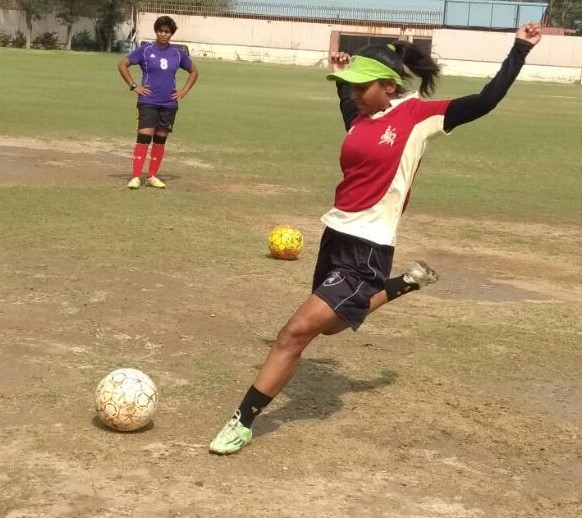 In 2012, Somi joined CEQUIN, an NGO founded by Sara Pilot, who is the Women's Committee chairman of the All India Football Federation (AIFF). CEQUIN works to educate and upskill women in various fields. The organization also provides opportunities and monetary benefits for girls who do well in academics and sports.
"At CEQUIN, there are multiple activities taught to women ranging from dexterity, football, academics, etc. Growing up, I was very weak in my studies. But when I joined CEQUIN to play football, I became very focused and disciplined. It is essential to follow one's passion because it motivates you to become a better person every day. Football instilled important life traits in me. Not only did my health improve, but I became self-aware and motivated. The life lessons I learned through football were later applied in academics as well. And it showed results. Looking at this, my parents became very supportive and wanted me to continue playing and achieving my dreams," apprised she.
The football of management
Somi continued playing for CEQUIN and represented them in reputed tournaments across India. In a short span, she bagged numerous medals and became a recognized player in the community.
In 2015, after completing high school, Somi enrolled in Lady Shri Ram College to study Hindi Literature. Like most colleges in India, playing opportunities for women were limited during those days. And there was no women's football team at her institute.
Somi tried playing Basketball, Judo and joined the National Cadet Corps (NCC). However, football remained her first love.
Days went by, and she chalked plans with a few batchmates to start the first women's college football team at Lady Shri Ram. In the initial stages, the initiative received flak, but Somi's determination outplayed all hurdles.
"I was the only footballer at Lady Shri Ram college and wanted to create the college's first football team. At that time, the best option I had was to start playing other sports and prove my abilities to the sports committee. I enrolled for NCC as well. Because our sports head, Minakshi Pauchar ma'am, was the mentor at NCC. Having performed well in NCC and other activities, I requested ma'am to let me build the football team. Initially, they were a bit skeptical, but eventually, it all happened.
When girls saw that a new football team was starting, they joined us. The college did not provide us with a coach because they wanted to see whether the team could sustain itself. So, I took the onus on myself and trained our group. There were multiple challenges. Girls would stop playing for fear of injuries, fatigue by training, and misunderstanding. We had to ensure that everyone bonded well and create an environment that benefitted all.
In the end, all the hard work reaped results. Not only did we field Lady Shri Ram's first football team, but we went on to win multiple medals in university competitions," informed Somi.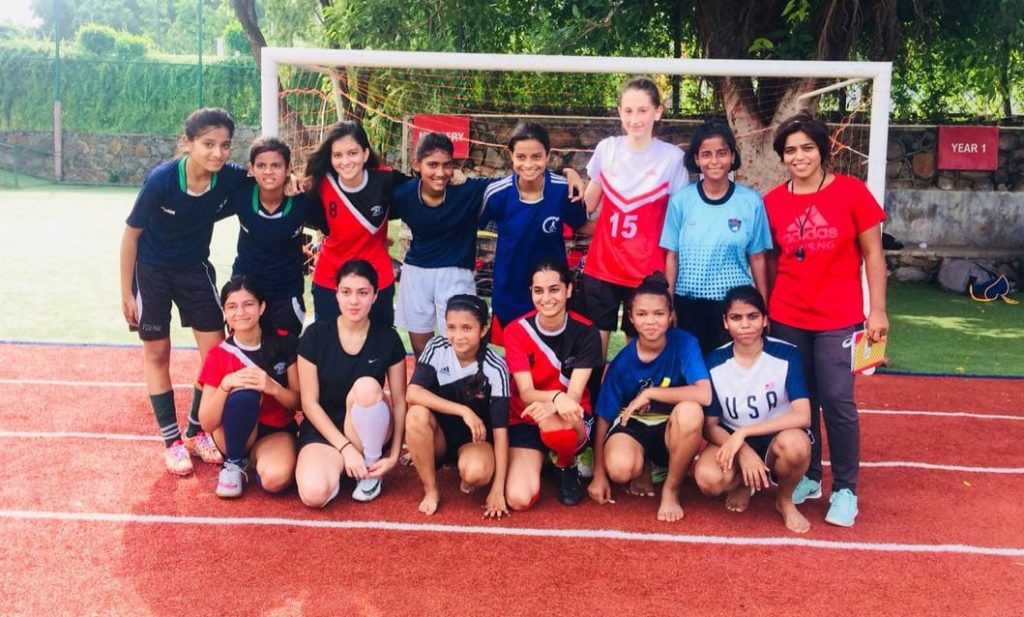 Somi's early success in football management boosted her confidence, and she understood her potential in coaching. While at college, in 2016, Somi joined the Premier Skills course, a coaching workshop organized by the British Council in association with the English Premier League at Navi Mumbai. Those were the early days of Somi transitioning from playing to coaching.
Switching roles
She got to know about Bhaichung Bhutia Football Schools (BBFS) in 2017 while playing a tournament in Mewat, Haryana. There, Somi was told about the Coaching Workshops organized by BBFS.
"I applied for the coaching workshop because I needed the right guidance. Each day, I would leave very early in the morning to attend sessions conducted by BBFS in IIT Delhi. Post that, I had my college classes. I learned the art of coaching at BBFS. I had a vague idea about managing a team and session planning until then. BBFS shaped my understanding of football, sharpened my management skills, taught me coaching technicalities, and imparted crucial knowledge about the game. After completion, I got shortlisted to train grassroots age-categories at BBFS as a part-time job," informed Somi.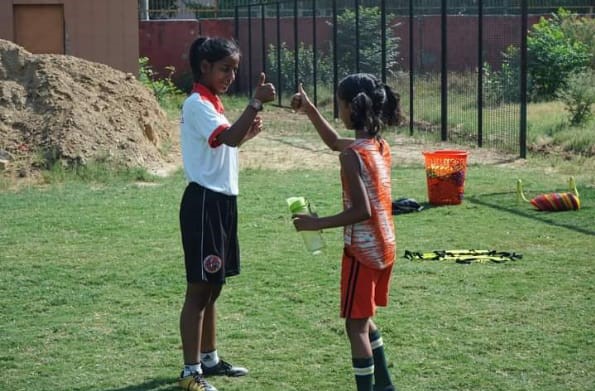 At BBFS, the free coaching workshops are organized for young aspirants to get introduced to football training.
Licensed coaches at BBFS conduct these sessions and mentor people who aspire to work in football. Coaches who do well get opportunities to work at BBFS centers and receive a chance to kickstart their coaching careers.
Somi trained U-8 and U-10 age category teams in BBFS partner schools in Delhi. She did well, and her teams participated in RSA Cup, Delhi Youth Cup, and several age-category tournaments.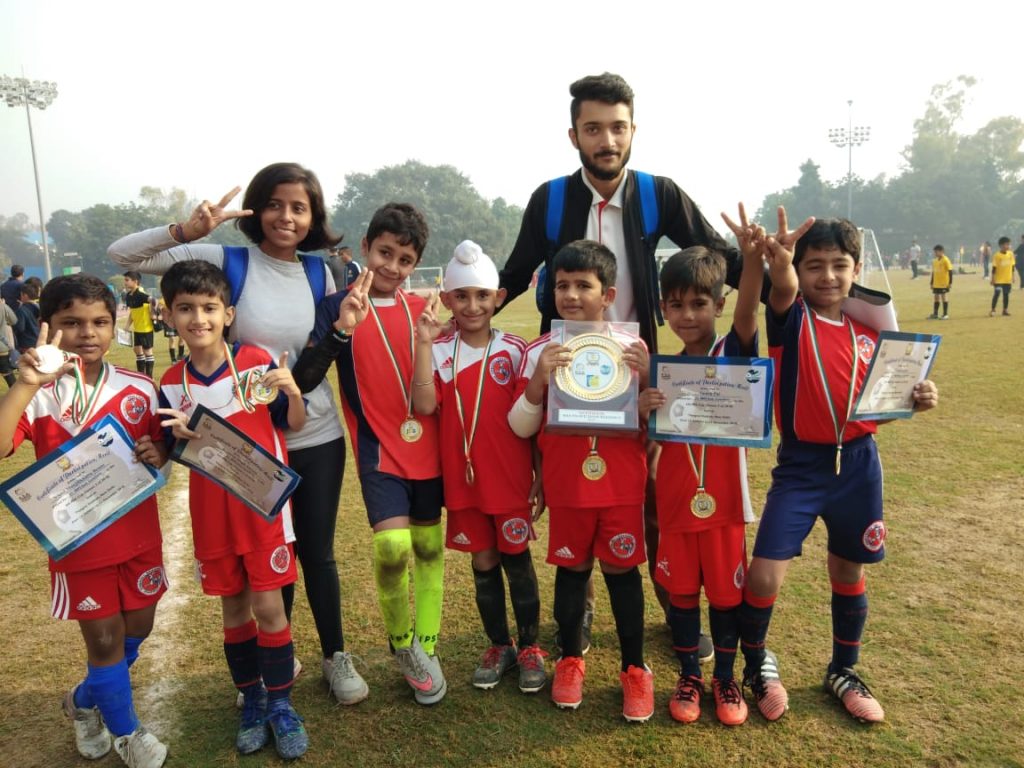 A fixed ambition
By 2019, Somi completed her AIFF 'D' License and enrolled for a course in Physical Education from Nagpur University.
During the same year, Somi was also awarded the Young Leader's award by the Women Economic Forum, recognizing her initiatives and achievements in sports.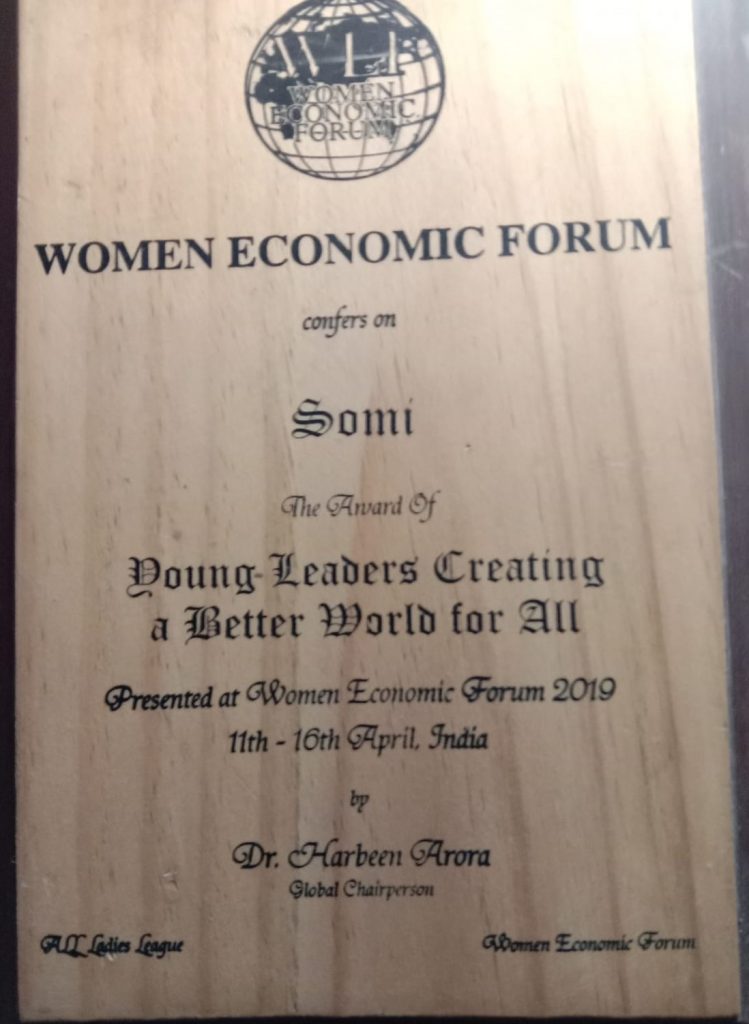 Albeit, while riding the wave of success and opening new avenues of her life, Somi faced the lowest phase.
She lost her father to brain hemorrhage in 2019.
"My family consists of four sisters, my brother, and my mother. After my father left for his heavenly abode, my mother took the onus to support the family. My father was the pillar of my success. His unwavering support enabled me to choose a path that I was passionate about. Women playing sports is still considered taboo in many families. But my family never believed so. My mom supported my education. I am happy that I can support her now. My only regret is not getting enough time to spend with dad," lamented Somi, with her voice cracking.
Just like coach Kabir from Chak De! India endured multiple failures after gaining initial success and built a team from scratch, Somi's journey is no less than the famous movie. She remains an inspiration for the entire coaching fraternity and inspires everyone around her to push their limits. Somi persevered through multiple storms post 2019 but kept her head down and challenged herself daily.
Currently, she works as a Physical Education teacher at KR Mangalam School, Delhi, but her ultimate dream is to coach the national women's team and win laurels for India.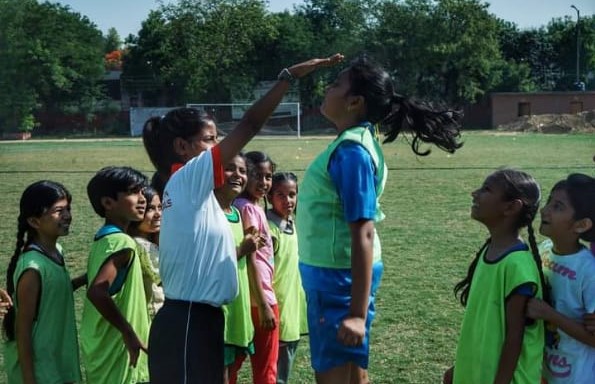 "I think our government should pass a bill where sports becomes a fundamental right for all of us. There are many places where women playing sports are still restricted. Given an opportunity, I will leave no stone unturned to change this scenario. Sports have changed me as a person, and it is a powerful tool to drive change and create a long-lasting impact in human lives. I thank organizations like BBFS for working and developing this space tirelessly for over a decade now. I'm always in touch with them and keep attending their workshops to develop myself," concluded Somi.
Since 2010, Bhaichung Bhutia Football Schools has trained 2000+ coaches, many of whom work in top-tier football.
Currently, BBFS is developing a unique coaching program in association with the National Skill Development Corporation to revolutionize this space and provide opportunities to deserving candidates.
Read more about BBFS Residential Academy
Download enJogo, India's first football learning app on Android and iOS
Read the last five editions from The Dugout:
#29 Taekwondo Football The American Dream
#28 Kheloge kudoge to…banoge CEO
#27 From India to Europe: a young footballer's dream journey
#26 Little Manbha's Big Dreams