"You know when you see raw talent. A talent that is world-class but needs guidance. Lionel was that. And we knew the first time we saw him"

Ankit Arora, Chief Operating Officer, Bhaichung Bhutia Football Schools.
Lionel Rymmei belongs up north from the beautiful valleys of Meghalaya. It is a place famous for its magical waterfalls, picturesque valleys, lakes, and most importantly, its gracious people and their undying love for football.
Speaking of football, the state is home to former national league outfits Shillong Lajong FC, Rangdajied, and Royal Wahingdoh.
Lionel grew up watching his elder brother Malcolm and other friends play in the locality. He joined them when he was a 6-year-old as a shot-stopper. Football continued to be his favorite pastime until the selection day changed his fortune.
The selection day
"For a long time, we have kept a keen eye on Meghalaya. Our regional scout from the state, Henrickson, always emphasized that the region has many talents awaiting opportunities. That took us to Shillong in 2018," informed Ankit.
Like every year, Bhaichung Bhutia Football Schools conducted a nationwide trial in different phases to scout talents and provided them holistic support in football and education at one of their Residential Academies in Delhi's Vedas International School. Trials continued over a week, and 17 youngsters out of 650+ participants were scouted from Shillong for the final round. They were flown to Delhi for the final trials.
A new dawn
In Delhi, six student-athletes were selected for the residential program. Lionel, aged 13, was a part of the cohort and one of the most promising student-athletes. But it was just the start. Life got tougher as his sojourn started in the capital.
"At first, I had to adjust to the weather. Then, the training. I have never had any formal football coaching back in my town. Initially, training seemed hard, and I found it difficult to cope. Also, I had to balance academics. I wouldn't say I like to study much. I am always in a tussle with my coaches to finish my assignments on time or they disallow me to play. But I do manage to submit my assignments on time.
The thing is, I am fortunate to be surrounded by like-minded people. I spent a lot of time learning the tactical and technical aspects of football at Vedas International School. That's where my journey took off," said Lionel Rymmei, now 16.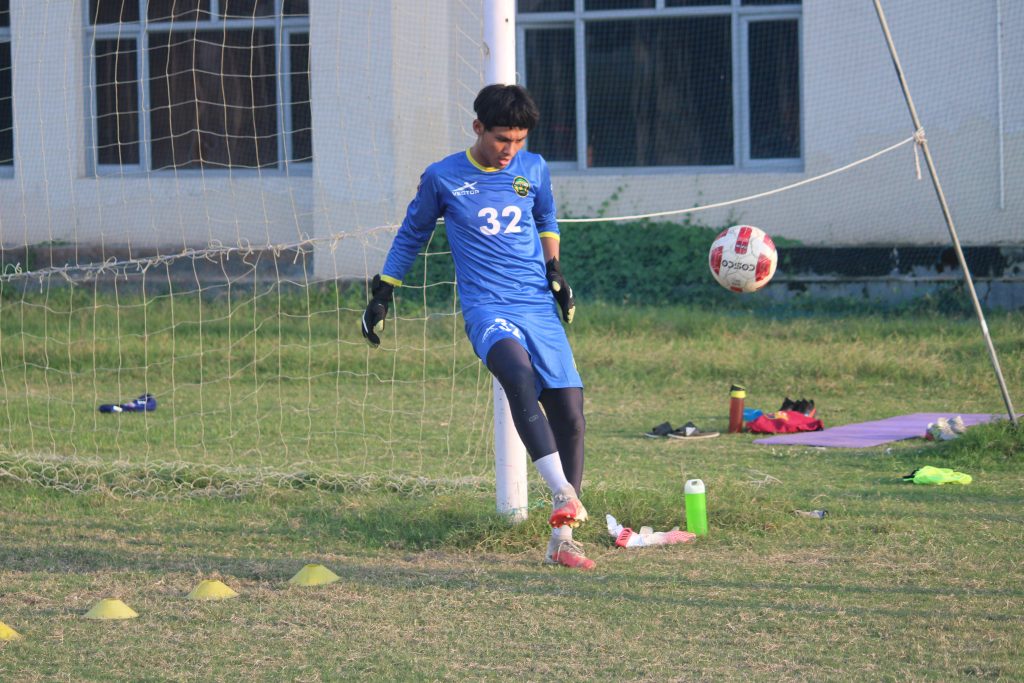 "We have seasoned professionals in different departments developing the regime for every player at our Residential Academy. During Lionel's initial days, we needed to work on all his attributes. We started with the basics and focused on his ball-handling, gripping, and other techniques. Simultaneously, we put utmost focus and scrutinized his nutrition intakes, performance metrics, and mental well-being," quoted Vivek Rawat, the Technical Director of BBFS Residential Academy, Vedas International School.
He continued representing the residential teams at various age-group and national-level tournaments. Lionel's physical, athletic and mental development happened rapidly, and he became the first choice keeper for the team.
His athletic abilities soon came to the fore. As Mr. Kunal, his goalkeeping coach at BBFS RA, would quote, "Lionel's fearlessness accompanied by his discipline and joy in pursuing football enabled him to learn fast. Within six months, he transformed himself"
Living the Dream
In 2019, Lionel got his major break while representing the BBFS Residential Academy team at the Reliance Foundation school tournament in Koparkhairane, Mumbai. The national team scouts noticed his talent and picked him. He was taken to Odisha, where the India U-15 camp took place.
He made the cut and spent the entire year training with the team. Since then, he has been a part of the junior national team and represented them in the Asian Football Confederation (AFC) competitions in foreign lands and proven his mettle consistently.
"There are multiple boxes needed to be ticked to play at the highest level. Our goal is to make our athletes play in the European leagues. Recently, Lionel represented India against UAE and performed well. He has potential. Organizations like BBFS are doing a good job in scouting these young athletes," said Felix D'Souza, Goalkeeping Coach, U-16 Indian National Football Team.
Lionel signed his first professional club contract this fall with Garhwal Heroes Football Club, a BBFS sister concern. He took part in the I-League Qualifiers (Delhi round) and was a part of the squad for the ongoing Delhi Senior Division League. Last month, he traveled back to Odisha and is now training with the Indian U-17 team.
"I'm delighted to have received these opportunities. I thank everyone involved in my journey to help me get where I am today. There's no looking back from here, and each day is a new start. I'm chasing a dream, and I hope I will make everyone proud," concluded Lionel.
But, at a tender age, how does Lionel manage all of it together? Does he dedicate all his time and energy to football?
His roommate disagrees.
"The best ability that Lionel possesses is that he knows when to switch off from football and rest. He understands that thinking too much about the game can have repelling effects. When we stay together, we talk about random things, play video games, and study together. Lionel is one of the finest athletes in our group and a very good friend. He is also great at playing Pro Evolution Soccer (PES)," said Carlos Pao, a BBFS Residential Academy student and a player at Garhwal Heroes Football Club.
Read more about BBFS Residential Academy
Download enJogo, India's first football learning app on Android and iOS
Read the last five editions from The Dugout:
#15: BBFS Residential Academy prodigy Karthik Panicker scores on debut!
#14: What's your position? STRIKER, SIR!