Team Delhi had a promising outing in the North-zone Santosh Trophy qualifiers beating Uttarakhand and Haryana. The first match against Uttarakhand ended with a massive 11-1 margin on 1st December 2021.
Seven goals were scored by Delhi in the first half, and their dominance extended in the second half scoring four more.
Delhi continued their impressive run of form against Haryana in their next outing. A 4-0 victory was added to the tally, which helped them fare better in the competition.
BBFS athletes score for Delhi
The Delhi football team consisted of seven current and former footballers from Bhaichung Bhutia Football Schools (BBFS) – Karthik Panicker, Dhruv Sharma, Mahip Adhikary, Sayak Barai, Gaurav Rawat, Neeraj Bhandari and Nitesh Chikara.
Amongst them, Karthik, Dhruv, and Neeraj scored for Delhi in their debut campaign. These players joined BBFS as young teenagers and have since risen through the ranks.
"I have been associated with the Delhi Football Association since 1992, and I would say this has been one of the best performances by Delhi. What impressed me more was seeing youngsters like Karthik and Dhruv in the U-21 category. They have a very bright future ahead of them." claimed Mr. Magan Singh Patwal, a Delhi Football Association (DSA) senior member and General Secretary of Garhwal Heroes Football Club.
The entire team was closely knit and left very small margins for opposition teams to exploit. Delhi was noticed for adept passing abilities, swift decision-making, and agility.
"We have been focusing more on playing short passes, minimizing aerial balls, and not rushing in. The focus is to play attractive football. Our performance has been encouraging, but there are mistakes, and we are trying to improve them. It's an ongoing process, and we aim to upgrade ourselves each day. Moreover, I feel getting to play for my state is an achievement for me." tells Dhruv Sharma, who scored twice against Uttarakhand and once against Haryana. 
Dhruv, currently aged 19, joined Bhaichung Bhutia Football Schools in 2017 with the U-15 Development Squad. Since then, besides school and local tournaments, Dhruv represented BBFS once at U-15 I-League and played at U-18 I-League twice. He was also a part of the U-15 Indian national team camp in 2017.
Alongside Dhruv, Karthik Panicker, a BBFS Residential Academy student, played well. He emphasized that having a positive environment strengthened the team.  
"The team's strength lies in its unity. The juniors can speak freely and voice opinions without giving a second thought. The support system is essential for a team. Vikas sir, our head coach, has been guiding us with everything. Playing at the Santosh Trophy has been a good experience, and there are multiple learnings for me." said Karthik, who scored an enthralling goal against Uttarakhand.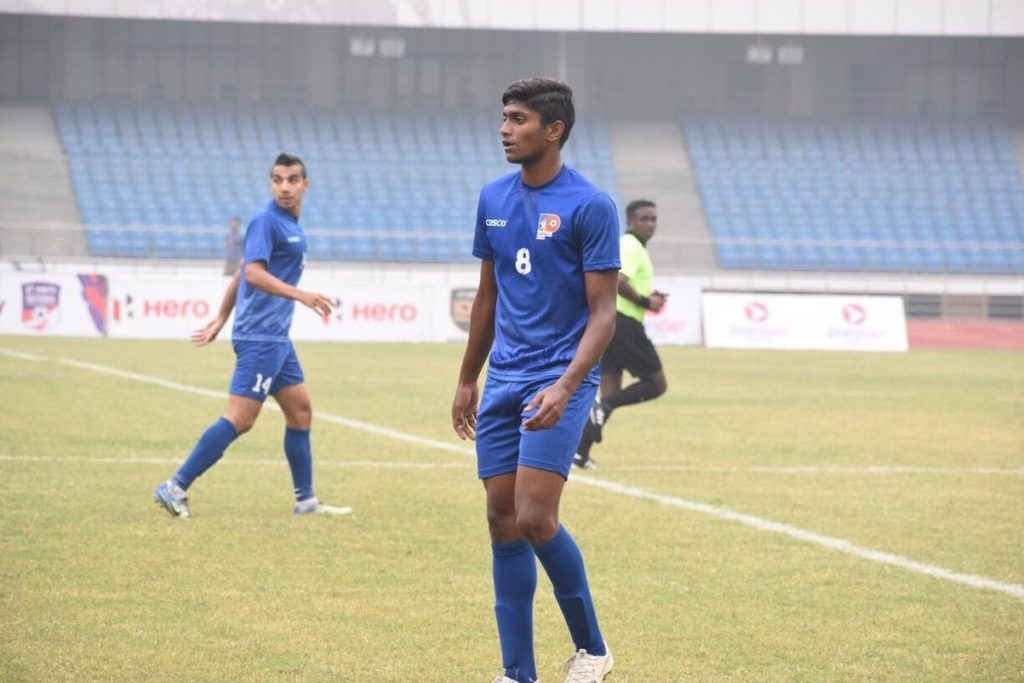 The Delhi team players have participated in competitions since early November. Before Santosh Trophy, athletes played the ongoing Delhi Senior Division League. They have consistently been on the run, which further improved their performance.
"Delhi football has potential, and our performance is a testament. The clubs are working in cohesion, and many academies are now mushrooming in the city. We aim to become a very organized and bigger footballing state as we advance. We need to work as a team and focus on creating opportunities for everyone interested in football." says Mr. Shaji Prabhakaran, President of Delhi Football Association (DSA).
The growth of football in Delhi depends on grassroots development
Mr. Shaji Prabhakaran is a football consultant who has worked at the FIFA, AFC, and AIFF. He was previously the FIFA Regional Development Manager for South and Central Asia for half a decade. His work, which has spanned for decades, started with grassroots development. Mr. Shaji has also authored Back to the Roots, where he shared his years of experience and research working in this space.
Mr. Prabhakaran, during his call with us, reiterated the importance of growing youth football and the importance of having all stakeholders work in unison.
"So far in India, grassroots football is at 10-15% of what it should be. Without having a robust youth development system and structures in place, it isn't easy to grow the game. We have to make grassroots football bigger because that is where we will see more vibrancy. The work needs to happen right from the school level, where it should not just be limited to 20 school team footballers playing. We are devising a strategy to make football more accessible and fun." quoted Mr. Prabhakaran. 
Mr. Magan, being a veteran in the Indian football ecosystem, spoke about his love for the game and the need to focus on the next generation.
"This is a long-term process, and development does not happen in a day. I am so happy to see youngsters perform well. Organizations like BBFS play an important role in engaging the masses through their football programs all over the country. Their efforts and emphasis on developing players holistically was displayed at Santosh Trophy this time. This should be the way forward for all organizations working in development of football. We want our players to do well." concluded Mr. Patwal.
In their third encounter on Sunday, 5th of December, Delhi were edged by Punjab, the eight-time Santosh Trophy champions, by a solitary goal in the dying minutes. After winning all three group stage games, Punjab qualified and will take part in the Santosh Trophy final round in Kerala later this year.
Read more about BBFS Residential Academy
Download enJogo, India's first football learning app on Android and iOS
Read the last five editions from The Dugout:
#21 Ever missed a football culture?  
#19 From Grassroots to Pro: The journey of an Indian football coach