"I want to play better than yesterday and keep improving my craft. I'm not seeking a destination but focusing on the journey"

– Gaurav Bohra, an enJogo-BBFS Residential Academy scholar. 
Gaurav hails from Champa, a small village in Uttarakhand. He was introduced to football as a five-year-old alongside his brother, Saurav, who is one year older.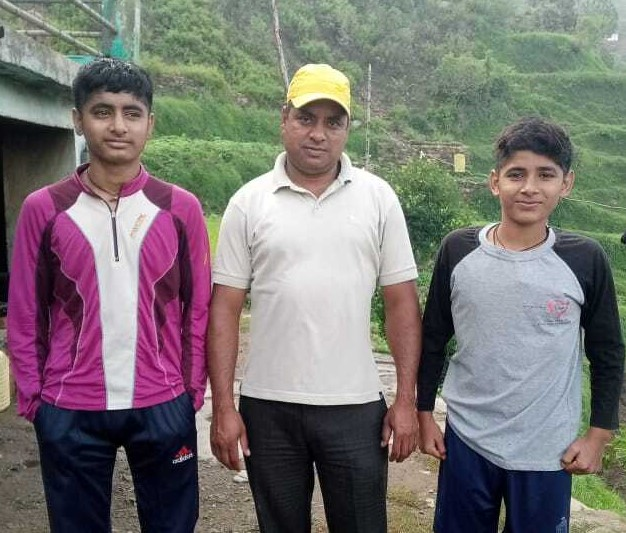 "Father took us to Tanakpur Sports stadium to watch matches. Soon, we got hooked to the game, and father enrolled us at the local football academy," said Gaurav, now fourteen. 
During the initial years, Gaurav never perceived football as a professional pursuit. Neither did anyone else. He loved playing the game with his friends and discussing it with his family. As both the brothers performed in local and district tournaments, their caliber came to the fore. 
"We come from a very humble background. I had a knack for football but never received the opportunity to play at a certain level. Both my sons were very eager to play the game and were performing well. But, I never thought they could play football professionally. I wanted them to start playing because sports help develop mental and physical resilience, and it can later help them attain jobs in the Indian Army or related fields," said Mr. Hukam Singh Bohra, father of Gaurav and Saurav.
Signs of things to come
Saurav was the first athlete from the Bohra family to get a break. He was selected at the Maharana Pratap Sports College (MPSC) with a scholarship. Saurav was doing well, but had to leave the camp due to an injury.
In 2019, he again got selected at MPSC. Gaurav was selected as well.
However, fortune had other plans. Mr. Hukam came across a newspaper advertisement about scholarship trials at enJogo-Bhaichung Bhutia Football Schools Residential Academy. 
"After their selection at Maharana Pratap Sports College, we came across Bhaichung Bhutia's football academy. Bhaichung is an international icon. If my sons can take inspiration from him and follow his team's guidance, there are no limits. When I read about his academy, I wanted my kids to join them," said Gaurav's father.
Leaving brother and parents to chase a dream
Both brothers got selected for the final round out of hundreds of attendees.
"After Saurav's injury, their mother and other family members were skeptical about letting both stay away from home. Deep down, I was not sure either. But I was very excited about this opportunity. I did not want my sons to have the same fate as mine. Hence, I took them to Delhi for the next phase," reminisced Mr. Hukam. 
Gaurav used to play as a striker until enJogo-BBFS trial day. He was made to play as a defender and emerged the best in his new role.  
Gaurav and Manbha were the only two players who were shortlisted for full scholarship in their age group.
"I was mesmerized to see the facilities, faculty, and environment. This is where an athlete needs to be. The coaches came to me and informed me about Gaurav's selection. That was one of the best moments of our lives," said Mr. Bohra.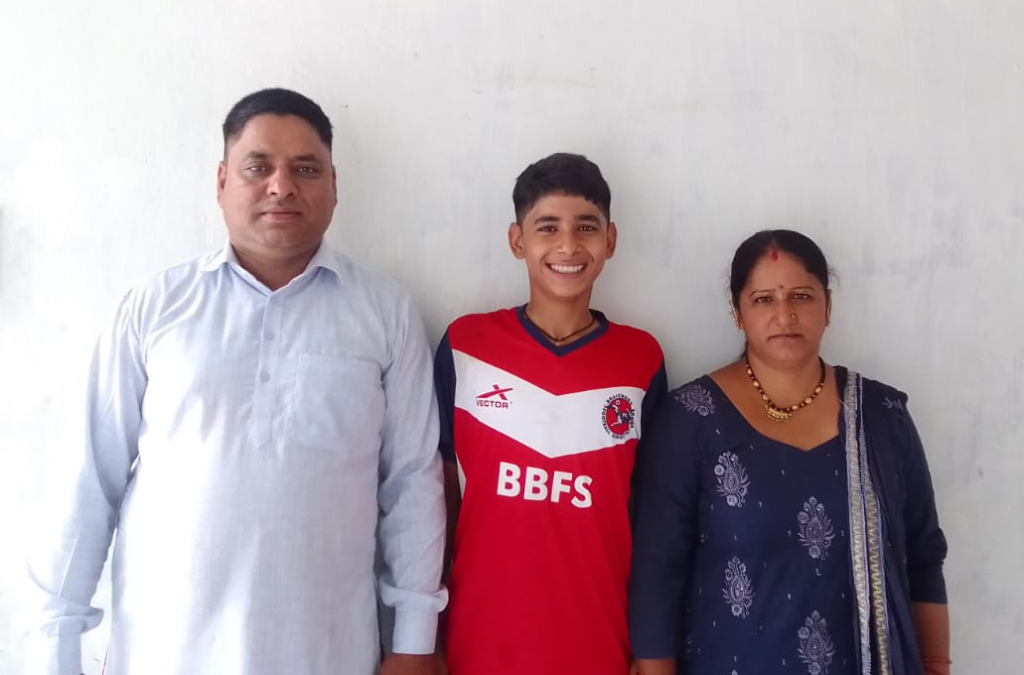 Saurav made a cut but did not receive a 100% scholarship. Due to financial constraints, the elder brother failed to join Vedas International School, an enJogo-BBFS Residential Academy in Delhi. Saurav is now back in Uttarakhand and continues to train there.
Transitioning on and off the field
The initial days at the academy were not easy for Gaurav.
"Initially, I did not feel comfortable. Leaving my family was not easy, and neither was adapting to a new position and environment. I'm thankful to my friends and coaches at enJogo-BBFS who supported and motivated me throughout. The culture revolves around learning and teaching. The sessions are intense yet fun-filled. It is never an off day for us. We learn from our seniors and pass our learnings to juniors.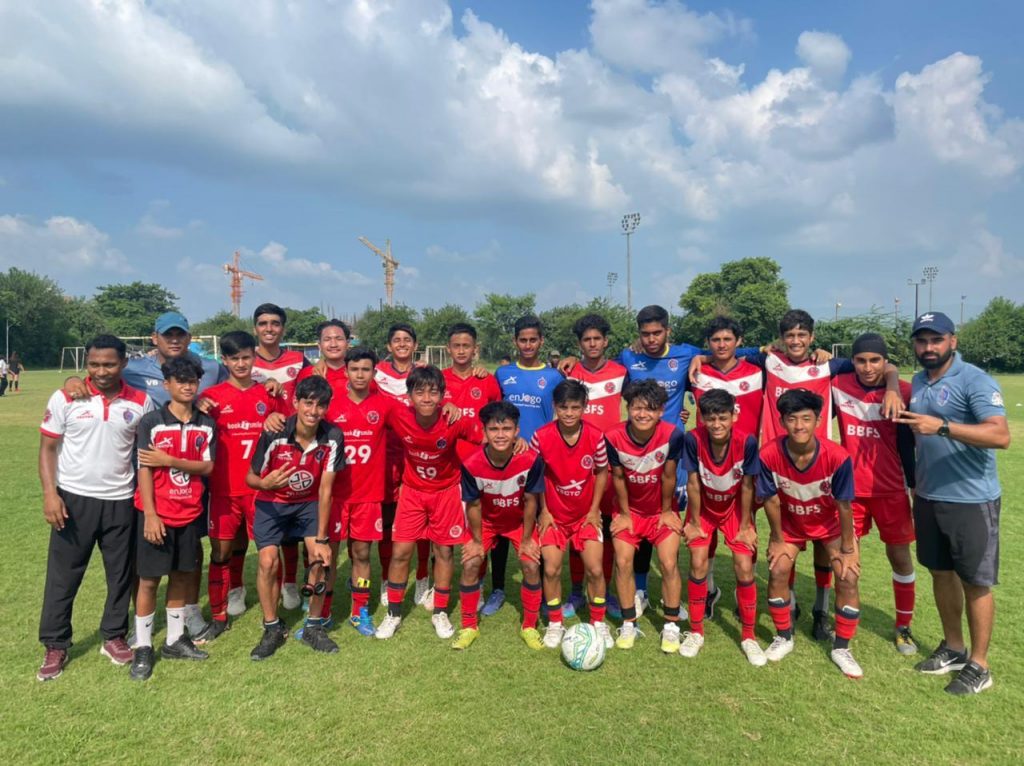 The same is carried forward on the field. We never blame each other during a game or practice session. I remember playing one of the best matches against Sudeva Delhi FC in the junior I-League. We lost the match, but I will never forget our teamwork. It was one of the most important lessons for me," recalled Gaurav.
Ever since Gaurav joined the academy, the curriculum has changed his outlook on life. Alongside sports, his academic progress is evident.
The future is bright
As an individual, Gaurav is famous for his leadership traits. For instance, he made it a point to teach a particular shooting technique to a junior. Every day, after school and football training, Gaurav took him to the field and taught the technique.
"He has the potential to captain a team. From a playing perspective, his awareness, close control, and passing stand out. He is capable of achieving more and I am sure he will do well," claimed Vivek Rawat, the Technical Director of BBFS Residential Academy, Delhi. 
Gaurav has played junior I-League, Delhi League, and other local and state-level tournaments. This season, he is preparing for the SGFI, Subroto Cup, and age-group I-League matches.
"Seeing Gaurav, seven of our young family members have taken up sports. I see many children playing football in our locality now. They ask me about him. It fills me with pride, but I understand my sons are still young and have a long road to travel. There is no pressure. I want them to enjoy the journey and not think about the results," concluded Mr. Bohra.
Gaurav acknowledges. At age 14, Gaurav is not just doing great for himself but shows his abilities to develop others as well. Idolizing Sergio Ramos, Gaurav often tries to imitate his defensive techniques and leadership skills on the pitch. His long-term ambition is to represent Garhwal Heroes Football Club and play for the Indian football team. 
Read more about BBFS Residential Academy
Download enJogo, India's first football learning app on Android and iOS
Read the last five editions from The Dugout:
#49 Leaving IT to pursue Football Coaching
#47 Garhwal Heroes FC launches India's first and only college football program
#46 Celebrating Chandigarh's largest football league