Arjun Pandey was 10-years old when he got enrolled in the BBFS program. Over the years, he has achieved several accolades on the field and excelled in academics.
Questioned whether sports and studies go hand-in-hand, Arjun believes,
"Performing on the field requires compassion, hard work, and determination. These are the key components to succeed in academics as well. The mental skills and toughness you can develop remain unparalleled in sports. It helps you grow as a person and helps in life."
Recently, Arjun got inducted at the prestigious Stanford University. This fall, he will start a new life in California, majoring in Computer Science. He was also a recipient of the President's Award for a social cause recently.
Arjun states football to be the most vital component of his life. "It is football, which helped me secure admission at Stanford,"
"The dedication and self-confidence you develop pursuing sports can translate into doing better in life. Over time, you already have those important skills ingrained in you to flourish," says Arjun, who represented Delhi at a National tournament.
But, can a seasoned athlete perform well in academics?
Let us take the example of Viren Rasquinha. One of the finest to have graced the Hockey fields for India, Viren was a topper in his board examinations and eventually an Olympian for India. Once he decided to retire in 2008, Viren pursued higher studies at the Indian School of Business.

Failing to win an Olympic Gold during his sporting career, Viren co-founded Olympic Gold Quest, India's premier sports management firm managing 180+ athletes. Over time, OGQ athletes have clinched 100+ medals at the National and International stages, including 5 Olympic Medals.
Similarly, Indian legends Rahul Dravid, Anil Kumble, VVS Laxman fared exceptionally both on the field and off it.
How can sports help children become responsible citizens?
Sports by research has proven to be an indicator of increased intelligence in students. It helps create sharper brains by curating new neural pathways, as several studies can reveal.
An experiment by Stanford University found how sports can improve divergent thinking, which is concerned with out-of-the-box idea creation rather than identifying a correct answer to a question. Sport imbibes important character-building traits such as self-confidence, emotional intelligence, social skills, patience, and most importantly, it equips a child to manage failures.
As per research, sporting activities are highly beneficial for some of the following physiological aspects:
Relieves stress and improves memory
Increases cardiovascular activity
Improves balance and coordination
Reduces chronic muscular tension
However, it is not just about playing sports; watching competitive sports teaches you a lot about life. If you have watched the Euro 2020 games so far, you should have acquired lessons for life.
From Eriksen's on-field near-fatal incident to Switzerland restricting World Cup champions France, the Euro 2020 taught us discipline, teamwork, resilience, adaptability, mindfulness, and other aspects that we seek in an ideal citizen.
Wasn't learning meant to be about this primarily?
Unfortunately, in India, most of us have fought for that one extra sports period at school back in the day.
So, how does a child manage Sports & Studies?
For a child to maximize their learning, they need an ideal environment with mentorship. Explaining how this process works, Late Ms. Monica Behl, our esteemed Principal from Vedas International School, would say,
"I ardently believe that sports help to develop a child's character and personality, which in turn affects their academic performance. It is no surprise that sports build self-esteem and confidence. Moreover, it teaches children the power of discipline and consistency. Sports have proven to increase cognitive functions in the brain by forming new neural pathways."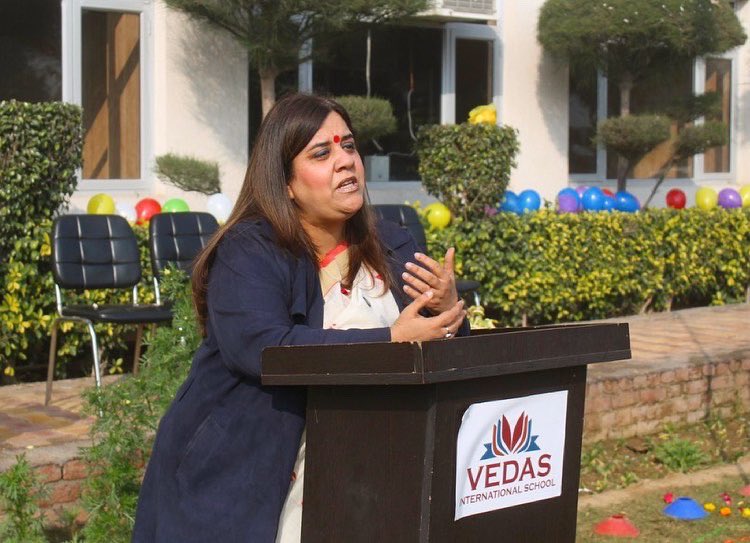 Ms. Monica played an instrumental role in structuring a customized curriculum for the BBFS Residential Academy (RA) program.
The BBFS RA program is a unique curriculum of football and academics. Generally, when kids enroll, they believe they joined to play football, or football is their only priority. So the academic and BBFS team, during the induction, counsels students on ways to manage both.
As they proceed further, the team provides support in academics. Since the children stay away from home, the team ensures availability for any requirement.
Balancing sports & studies
BBFS has over the years trained 15,000+ student-athletes and has led them to make better life choices. Speaking with Atharv Dyal on balancing sports and studies, he says, "I can't say I 'love' studying, but it's an integral part of my routine. The goal is not only to become a footballer but an educated one."
Atharv represented Delhi at the BC Roy Jr. National competition in the previous year and was one of the top rankers in the Xth Board examinations from Vedas International School.
When asked whether balancing sports and studies becomes difficult, "Discipline is the deciding factor here; I plan on defying the general stereotype about footballers being uneducated," came his instant reply.
However, when we made him choose between his coaches and teachers, he affirmed with a cheerful grin, "I'll have to say I prefer my coaches over my school teachers, but I have my respect for both."
Read more about BBFS Residential Academy