"Some people tried to make me believe I can't make it to the top. And others never wanted me to succeed."
When Gaurav started playing, challenges were synonymous not only on the field but off it as well. Growing up, Gaurav left his hometown Assam to settle in Delhi. During the early days, injuries were a concern, and in some cases, it could have ended his career.
Barring injuries, Gaurav also faced harsh opinions when he showed early signs of promise. He was made to believe that he lacks the attributes to become a footballer and is an average player wasting time.
But if he were to be bogged down by the critics, Gaurav's fairytale journey would never have taken place. His resilience bore fruits and helped him bounce back from setbacks to keep moving forward.
Starting up is never smooth sailing. It is people like Gaurav who defy odds and stay on course to push their limits.
Believing in his abilities was the stepping stone, and overcoming one challenge at a time set him for the path he was destined to travel.
"Initially, football for me was about enjoyment. I never started playing to become a professional footballer. I wanted to gain exposure and learn from seniors."
He traveled from Assam to Delhi with his parents, who were in the police force. Gaurav was admitted as a hostel student in CRPF Public School in Rohini, where he started playing football.
Traveling to Delhi opened a plethora of opportunities for Gaurav. He began to train under Mr. Sunil Patwal, physical education teacher and football coach at CRPF Public School, who nurtured his liking for the sport. As his abilities caught attention, Mr. Patwal referred Gaurav to Bhaichung Bhutia Football Schools for further development.
In an ideal sports ecosystem, guidance and motivation remain significant factors for success. For any child, their interest can change by the day. One negative experience can ruin the real possibility of them taking up the sport in the future.
Gaurav tells, Mr. Patwal's passion and encouragement enthused him to train persistently and pursue his goals.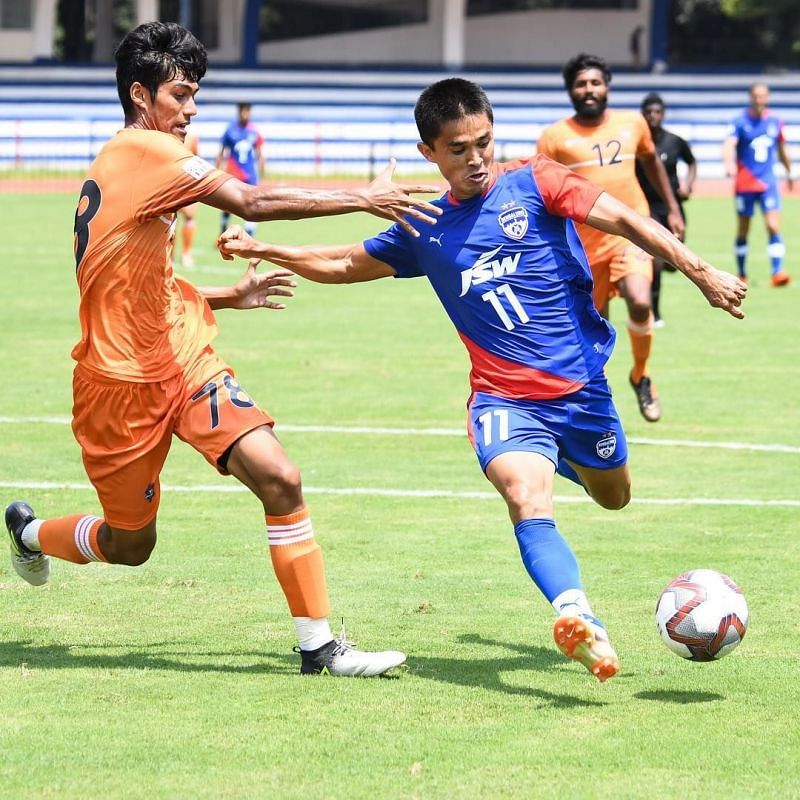 "At BBFS, I relished my training sessions with fellow players and the guidance provided to us by coaches. One day, some senior coaches from Pune FC came for scouting, and I made it through. My journey in professional football kicked off."
After joining BBFS, the training modules developed his basics and core strength. Within a few months, his performance was improving steadily.
Soon, I-League-based Pune FC came for trials. Around 500+ aspirants took part, and Gaurav was one of the very few athletes to get through.
Gaurav's selection at Pune FC exposed him to a very new environment. Pune FC's academy was a first-of-its-kind Residential Academy set up back in the day where everything revolved around football alongside academics.
Gaurav stayed at their Residential Academy and developed at a rapid pace. He received personalized focus on training, well-being, nutrition, and other aspects.
"In India, the Residential Academy concept is coming up. In Europe, it's common for athletes to stay and train together. I was very fortunate to be part of a Residential Academy; it made me what I am today."
But was it only about playing sports?
On many occasions, athletes feel that joining a residential academy is only about playing. But Gaurav's experience tells a different story.
"When you're young, you don't understand the importance of academics. Patwal sir was very strict. Failing in an academic subject led to cancellations of football sessions. So to be on the field, we had to ensure that we study well." says he.
At Pune FC Academy, too, every activity had protocols. An entire day's schedule would involve athletes training, working out, studying, and eating alongside other things. Each activity was monitored by specialists, which was used to develop a better routine according to the individual needs.
Gaurav also learned about physiological and psychological aspects such as mental strength, high performance, nutrition, and wellness from experts.
In Europe, Residential Academies are widely spread. "Die Toekomst (The Future)," an Ajax Youth Academy, has been a feeder for world football for the last 100+ years. The academy has produced the likes of Seedorf, Johan Cruyff, Dennis Bergkamp, Frenkie De Jong, and several world-class footballers since 1900.
As the academy keeps becoming more prominent, the alumni who ply their trade in the top European leagues scout and advise players to join. Similarly, former players who turned coaches train the students when possible.
There are 100+ Residential Academies in the UK, which play a huge role in producing top-tier clubs and country players. And as we write this, the numbers are increasing by the day.
Gaurav agrees.
As he would say, coming to Delhi was luck; joining a Residential Academy was a blessing, all thanks to his parents.
"Parents were quite supportive. Initially, mom was agitated about my academics and the environment I was getting into. But eventually, they supported me a lot."
It is quite a call to make for any parent to allow their child to leave home and pursue an unconventional field. Making a career in sports is even more challenging. Even if an athlete is equipped with talent and physicality, other factors can result in failures.
Gaurav states that even though his parents were a bit dilemmatic initially, they always believed in him and wanted to give him an opportunity.
"If they had been stringent and enrolled me for a conventional program, things would have been very different. I can't thank my parents enough for supporting me the way they have. Without them, nothing would have been possible." says Gaurav.

"When I started playing, I never thought there would be a day when a goal scored by me would lead my team to become Champions of India. The feelings remain surreal. I intend to build on it." 
At age 20, Gaurav had an illustrious season winning the I-League with Chennai City FC, where he scored two goals in the final matchday to snatch the trophy from Kolkata giants East Bengal.
As expected, he received a call-up for the National team. After his stint at the I-League, Gaurav joined the India U23s to play in the AFC U23 Championship in Uzbekistan.
Just like any athlete's dream, Gaurav envisioned representing the country. For a youngster, his journey so far has been enthralling. However, when asked how he perceives success, he states that it is Day 0. Gaurav intends to learn every day and never let failures get the better of him.
"My main advice for a 15-year-old self would be to achieve attainable goals. There will be many people who want to see you fail. It's up to you what you want to become in life. Look after your habits, eat, and sleep well. Make sure you do everything that is required to achieve your target."
That's Gaurav Bora. A former BBFS graduate turned National team footballer.
At age 22, Gaurav's age defies his achievements. After his stints with the National team, Gaurav had multiple offers from ISL teams. Gaurav signed for Odisha FC in 2019. He is currently in his third tenure after two successful campaigns under Head Coach Josep Gombau, who specifically wanted the youngster from Assam to join them.
From the start, Gaurav's clever work differentiated him from the rest. His focus on a holistic approach without neglecting academics has helped him to achieve success at a young age.
Once he decided to play football professionally, he also wanted to chalk plans for life after playing days. His motive has always been to lead a fulfilling life, focusing on sports and studies.
For a defender with expressive game reading abilities, Gaurav is yet to achieve his truest potential. And we at BBFS believe in his abilities.
Watch the full interview on Play Better Podcast – an enJogo Production
Download enJogo, India's first football training app on Android and iOS
Read more about BBFS Residential Academy
Read Edition #5 – Why are we building a sports company?
Read Edition #4 – Five ways technology can make you a better footballer
Read Edition #3 – Sports & Studies: Do they go hand-in-hand?
Read Edition #2 – Growing up with football | Kush Joshi
Read Edition #1 – Passion in the time of Pandemic
Make sure you subscribe to the Dugout if you already haven't. Every Tuesday, The Dugout brings you a real-life story, learning, or experience that speaks about the happenings in and around the sports ecosystem.